Not all instructors are at all retreats. Feel free to email surfwithamigas@gmail.com to find out which instructors will be attending your retreat.
Holly Beck Obermeyer – Founder, Surf Instructor, Video Coach

Holly grew up the oldest of five girls in Palos Verdes, CA. She always loved the water and wanted to learn to surf around age 12 but her very old-fashioned mother would not allow it, telling her, "surfing is for boys, you'll never get a boyfriend out there competing with them. You should be sitting on the beach looking cute in a bikini!" By age 15 Holly had saved up babysitting money, bought herself a surfboard and a wetsuit and never looked back.
In June of 2001, Holly graduated from UCSD with a degree in Psychology and won the amateur National Surfing Championships. She turned pro and spent the next 10 years traveling all over the world to places like Australia, New Zealand, Brazil, Peru, South Africa, Gabon, Sao Tome, the Seychelles, the Andaman Islands, Hawaii, Tahiti, Fiji, England, France, Portugal, Ecuador, the Galapagos, Mexico, and Costa Rica. On a trip to Nicaragua in 2006 she fell in love with the warm water waves, friendly locals, and laid-back lifestyle, bought land, and began to fantasize about moving to Central America full time.
While still traveling as a pro, Holly earned an MBA in Marketing and crafted a business plan to start a women's surf school in Nicaragua. In 2010, she founded Suave Dulce, later changing the name to Surf With Amigas. She believes that anything is possible if you are willing to work hard and visualize success. As further proof of this philosophy, Holly now splits her time between Nicaragua and Costa Rica with her awesome husband Kim, and two young kids Luna and Soleo.

---
Jackie George – Partner, Surf Instructor, Video Coach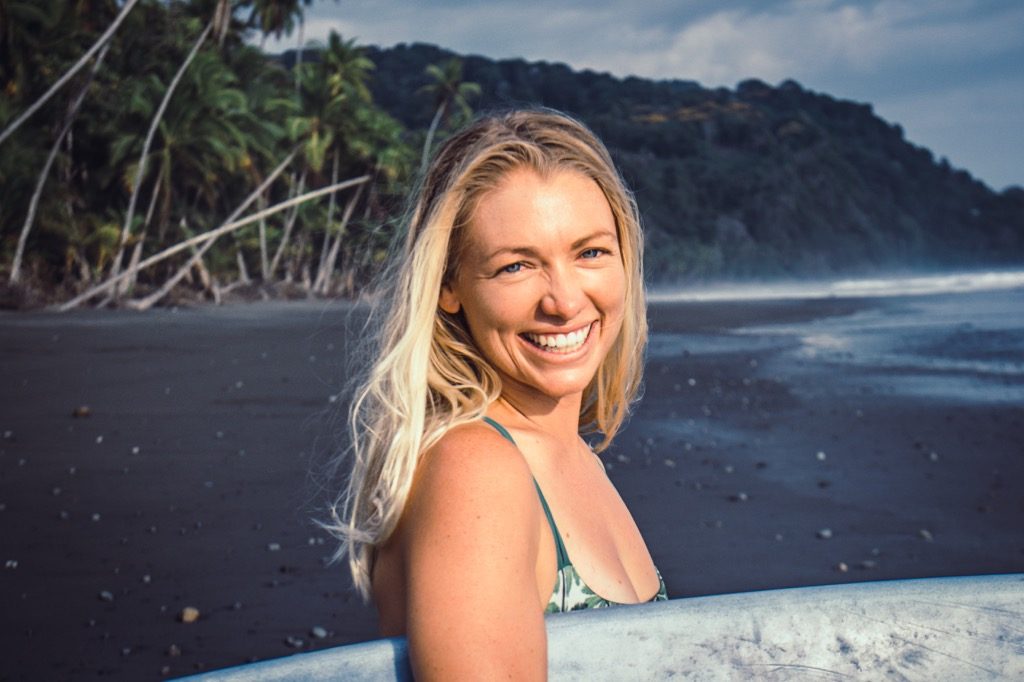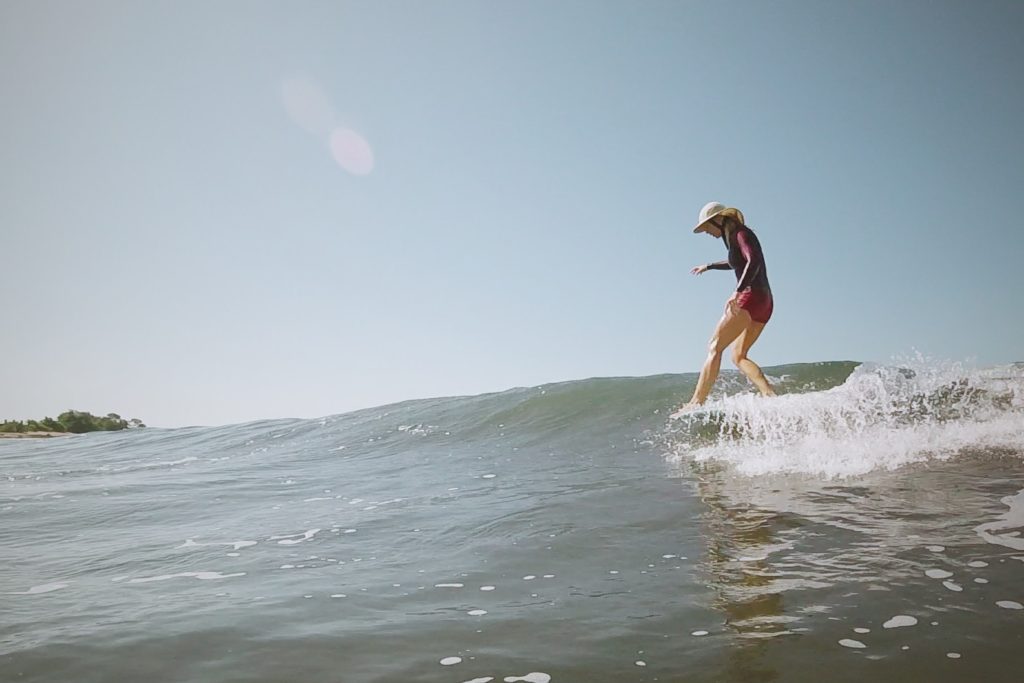 Jackie grew up spending the majority of her time on the beaches of her southern California hometown, San Clemente, where she developed her expertise as a water woman and beach bum.  In high school, she embraced the path set before her by previous generations of lifeguards, swimmers, surfers, and water polo players and devoted her time and energy to exactly those things. Jackie went to on to study cultural geography and Spanish at Humboldt State University where she was able to explore California's more remote coastline complete with bigger waves and colder water. It was in Humboldt that she developed a love for a natural and slow-paced lifestyle, but eventually tired of the cold weather, and decided to head south to Nicaragua for the winter. That first winter working with Holly quickly turned to a year and a half of teaching surfing with Amigas, traveling around Central America, and playing in the tropical paradise of her current home base in northern Nicaragua.
Before coming to Nicaragua, Jackie worked as a surf instructor up and down the coast of California, a beach lifeguard, a swim instructor and coach, and a whitewater rafting guide, and spent any free time she had traveling the world in search of adventure. Working with Surf With Amigas seems to be a culmination of her university studies, guiding and ocean experience, and inherent love of travel coming together to provide her dream lifestyle. In her time off from retreats you can find her searching for surf somewhere in Central America, listening to dancehall reggae somewhere in the Caribbean, cruising up and down California's Highway 1, or attempting to catch a fish.
---
Nikki Belcher – Yoga Instructor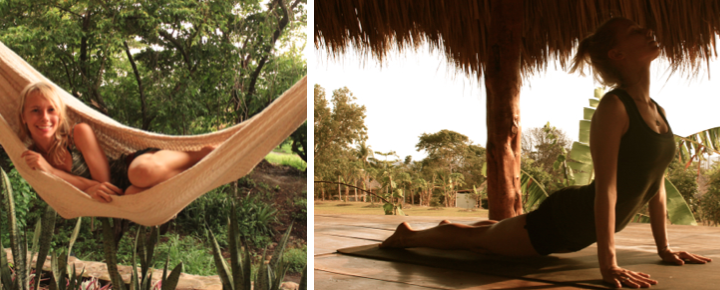 Nikki moved to Nicaragua in 2012 to pursue her love of travel and yoga. She has
since spent the last few years traveling throughout Nicaragua and Central America
exploring various forms of yoga, meditation, body work and holistic health.
As a new mama, moon lover and dedicated student, Nikki thoughtfully weaves
themes and intentions into her classes. A mash-up of hatha, yin and restorative yoga,
her classes are carefully designed to use the anatomical keys of the body to open
and clear mental and emotional blocks. She believes that yoga is a way of life and
that through healing ourselves, we can heal and transform the world while inspiring
and empowering others to do the same .
When she is not teaching yoga she is often found with baby Naia on one hip and her
hands in the kitchen playing with vegetarian, vegan and raw foods.
[https://www.youtube.com/watch?v=DhBOez8Gp5o]
---
Carly Chivers – Surf and Yoga Instructor
Carly is one of the rare instructors that excels at both surfing and yoga. She is both a surf and yoga instructor.
The path of self inquiry through yoga practice is an ongoing exploration for Carly. She attended Brandon University in Canada, studying psychology and world religion, and competing in volleyball at the CIS level. During this time, the practice of yoga came about as a way to balance out her life, and her physical body from the constant impact of sport. Since then, yoga has evolved into a constant source of deep grounding and inspiration in her life.
Yoga, combined with a dedicated passion for surfing, has led her all over the world. She has surfed and explored Europe, N. Africa, Indonesia, Hawaii and is currently living in Central America. Her love for the ocean and surfing has a strong influence on her yoga practice. Carly often marvels at the parallels and level of meditation that both surfing and yoga offer, both allowing for moments of deep connection to nature and to self. The ebbs and flows of moving through life and the constant flux of the ocean are great teachers for Carly, always reminder her to let go, enjoy the ride and find an immense of level of gratitude in every moment.
After years of practice, Carly took the leap to become a 200 HR RYT in 2011. Since then Carly has been studying, and sharing her contagious love for yoga, and the peace she finds on the mat with her students. Carly challenges her students to express their most authentic self on the mat, and in the world. Teaching, sharing her passion with others, and encouraging her students to pursue what inspires them, is what keeps Carly going!
---
Britney Taylor – Surf Instructor, Video Coach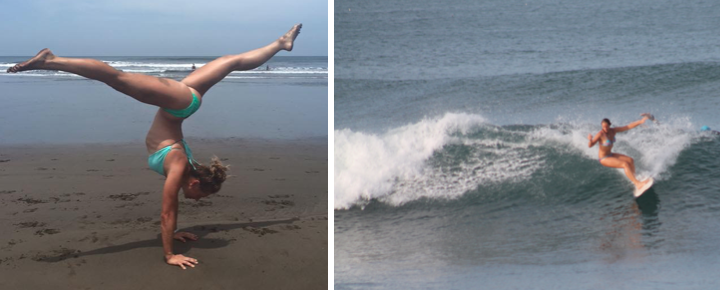 Britney started surfing at the age of 12, taking lessons in the freezing waters of South Australia. After the family relocated to tropical East Coast Queensland (home of world class breaks and endless summers) she really got hooked! She soon obtained her surf coaching qualifications began assisting Quicksilver Surf School on weekends and holidays.
The ocean and chasing waves was something that remained constant in her life for the next 5 years between other full time work and completing a double Bachelor of Business/Communication. Her passion for travel and surfing combined when she was awarded two consecutive scholarships to study abroad; one year in Mexico and another in Spain. This allowed her to explore other amazing surf locations, discover interesting cultures and practice her Spanish language skills. Britney has now travelled to over 40 countries and counting, including challenging herself to complete Everest Base Camp (Nepal) in 2014 and completing the Inca Trail (Peru) in 2015.
While managing a successful Travel Agency in Australia, a surf trip to Sri Lanka sparked the motivation to leave the desk job and search for more active opportunities that might integrate surfing back into her lifestyle on a full time basis. Britney soon connected with Holly and quickly realized that Surf with Amigas was exactly what she was searching for!
When Britney isn't surfing you'll find her planning her next travel adventure, reading, sketching or practicing yoga. She believes that if you do what you love, you will never work a day in your life and continues to inspire Amigas by sharing her passion for the waves and the ocean.
---
Cherise Richards – Surf, Yoga Instructor, Video Coach and Editor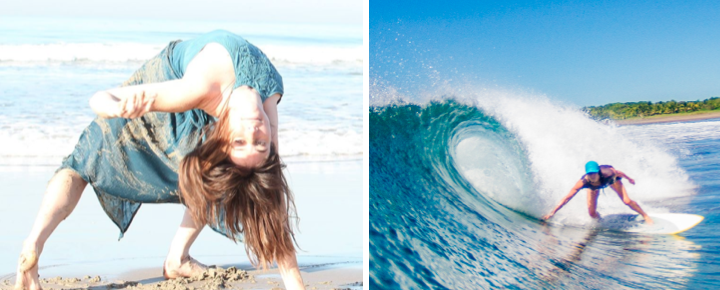 Cherise grew up in Ashland, Oregon and spent almost twenty years in the modern dance world as a performer, teacher and choreographer.  She has a BFA in Dance from UCSB and an MFA in Choreography from California Institute of the Arts.  She has also been a member of the Capoeira community for 20 years and has taught Dance and Capoeira at Loyola Marymount University, CalArts, UCSB and ACDFA among others.  She had her sights set on a dance teaching career at the college level, but found her time and attention being dominated more and more by her growing love of surfing and the beach lifestyle.  The shift from dancer to surf instructor/full time beach dweller was made official when she packed her belongings into a storage unit and started working for Surf with Amigas in Nicaragua.
Paul and Suzee Grilley have been her Yin yoga mentors for 15 years and she has been teaching yoga for over 5 years.  Throughout this time Yin has been an antidote to her more muscularly dominated activities as well as an anchor into a sense of spirituality through chakra meditation.  She is the featured model for the book "A complete Guide to Yin Yoga" by Bernie Clark as well as featured in several of Paul Grilley's DVD's.  As a teacher she particularly enjoys tailoring yoga classes to the special needs of surfers and finds Yin lends itself particularly well to this aim.  Teaching yoga for surf with Amigas has been incredibly rewarding for Cherise as she loves being involved in both the adrenaline inducing surf aspect of peoples' SWA experience as well as their unwinding, regenerative yoga experience.
She is also talented on the computer. With a great eye and knowledge of body mechanics she is one of our video coaches. She also edits many of the weekly highlight videos.
---
Michelle Kienlen – Surf Instructor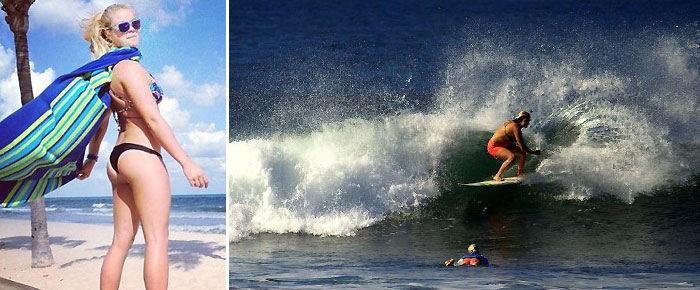 Michelle, 24, was born in Black River Falls, Wisconsin and moved to St Petersburg, Florida at the age of 6. Growing up fishing, playing softball and a few musical instruments she was not introduced to surfing until the age of 15. That first wave was all it took and she was hooked. Surfing instantly turned into a passion. Her parents were unsupportive but as soon as Michelle was 16 she drove across the state every weekend to surf the Atlantic side of Florida and learned to surf. She picked up a few small sponsors including Nekton surf shop, NXTC shapes, Zinka, and DNA energy drinks. With the support of Tommy Daniels shaping her boards and coaching, Michelle started avidly competing, surfing small waves in ESA and local pro-am contests all around Florida. After that, she decided to start traveling in search of better waves in between school and work. At the age of 19 a close friend brought her and her friend Nina to Puerto Rico. They loved the perfect Caribbean waves and took many trips back to PR to surf. Since then Michelle has traveled to Nicaragua, Costa Rica, Hawaii, and El Salvador. She is currently taking classes online and working at the Don Cesar Hotel on St. Pete Beach, Florida, when not surfing with and inspiring Amigas.
---
Emily Wratschko – Surf Instructor, Video Coach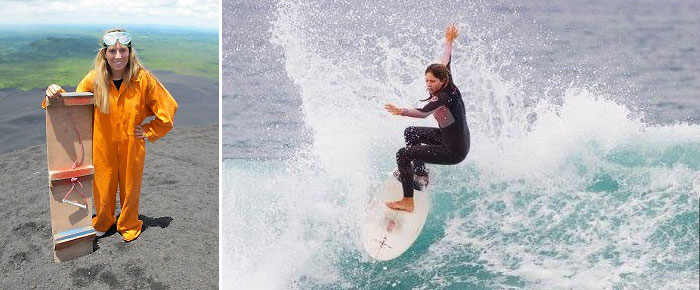 Emily is 25 years old and hails from Palos Verdes, California. She grew up surfing the South Bay of LA and was lucky enough to have a tight knit group of local girl surfers and the influences of Holly. She participated in contests throughout High School and ended up being the team captain of Peninsula High's surf team her senior year. After graduating, her love for surfing definitely influenced her choice in colleges. She headed down to San Diego State University where she got a degree in Business Administration and scored some great waves. Emily also competed with her college surf team where they took home multiple state championship titles. Teaching surf lessons throughout college lead her to open her LA based surf school where she could share her love of surfing with people from all over the world. After her first trip in Nicaragua back in 2010 she vowed to be back and jumped at the opportunity to teach with Surf With Amigas!
---
Ieva Aldins – Yoga Instructor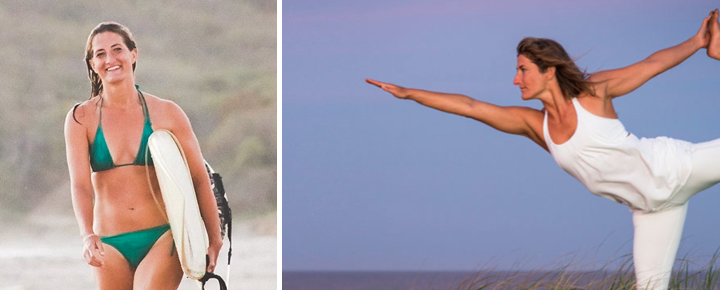 Ieva saturates her classes with mindful awareness of the physical body. From major and micro adjustments of form, to body scans, she brings students to full presence within their bodies. Through this physical presence students are invited to journey deeper into the internal landscapes of the mind, emotions, and their connection to that beyond the body. Her teaching style is steady, precise, playful and fun. With a talent for inspiring deep relaxation and healing her classes leave students feeling rejuvenated and refreshed.
Ieva received her initial teacher training at a Sivananda ashram in Tamil Nadu, India. Additionally, she is trained in Restorative Yoga, Yoga Nidra, Aerial Yoga, and SUP Yoga. She has been practicing yoga for 16 years. Yoga has led her down a road of good health and gratitude. She has taught at surf Retreats in India and Nicaragua, is a student of life, an avid traveler, surfer, and ocean lover. She enjoys a regular teaching schedule in the summers on Nantucket Island.
---
Alex Berning – Surf Instructor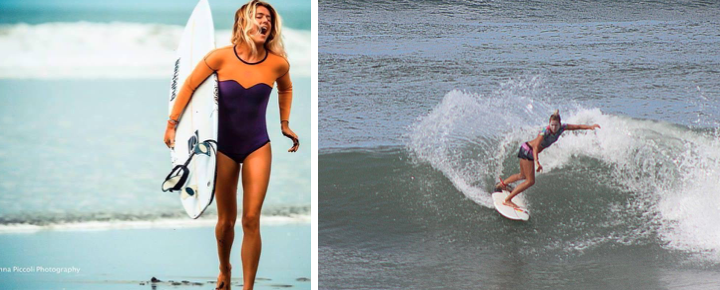 Alejandra (Alex) was born in Cádiz, the very south tip of Spain, where the mediterranean sea meets the Atlantic Ocean.   At age five she moved to California near from San Fracisco. She still remembers sipping hot chocolates while watching the sunsets in Half Moon Bay. When she turned 8 the family moved to a tropical surfing town called Melbourne Beach, FL  where she met local surfers and friends of her mother that got her into surfing. But, quickly after getting hooked on the ocean her mother moved back to Cádiz.
Alex's father is a sailor and pilot, so thanks to him she was able to sail and travel throughout exotic countries. The ocean became her passion and she went on to study Oceanography. While studying her degree she started a local surf school where she worked as a surf instructor also incorporating yoga in her surfing classes.  For five years she lived in a caravan with her two dogs, working, surfing, studying and traveling in her four-wheeled home to the nearby coasts of Portugal and Canary Islands.
Recently she decided she needed a change. So she thought warm water, consistent waves, nature paradise…Costa Rica sounded like the best bet. After having her best friend pick her up at the airport she started her adventure throughout Costa Rica where she felt full of energy, beauty, and alive again. This became her own overwhelming desire to embrace pleasure and enjoy!! The beginning of a new journey to become a better person and surfer. While surfing in Pavones, Holly saw her ripping and smiling and paddled up to her to ask if she might want to work with Surf With Amigas.
---
Ruby Meade – Surf Instructor, Video Coach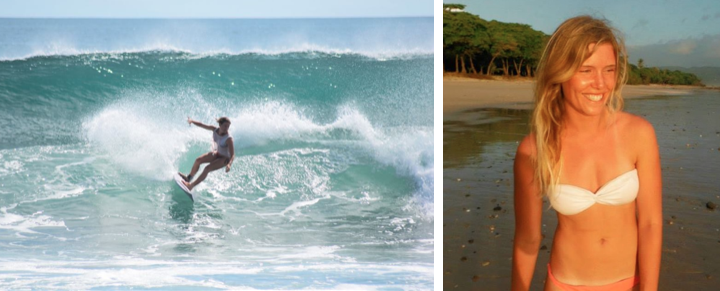 Ruby, 23, is from the iconic surf town of Raglan, New Zealand. She began surfing at the age of 14 and since then, her life has revolved around the ocean. Competing as a teenager, ruby tired of the scene and moved on to study sports science and technical pedagogy. Her passion for learning and teaching prompted her to create
The Surf Box
, an online surf coaching site for women. Between writing articles for her site and surfing, Ruby has a passion for traveling, psychology, and people. She is currently aiming to improve her Spanish, hunt for barrels and continue to be inspired by Central America.
---
Aura Boulton – Surf Instructor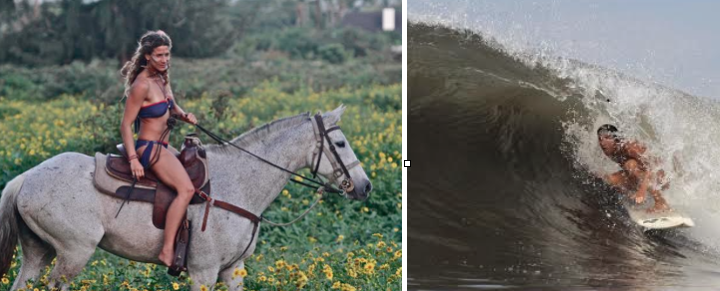 Aura, 33, was born and raised in Caracas, Venezuela. She spent many of her early years on a cattle ranch and began to be a lover of nature and horses from the age of 3. She also spent a lot of time on the beaches in Venezuela where her love for surfing was initially sparked by her stepfather at the young age of 8. She lived in NYC from the age of 12 to 21, left surfing and farm life behind, finished high school, and studied photography and sociology. But missing nature and her Latin culture too, Aura then moved to Costa Rica where she worked as a photographer, got certified as a Naturalist guide, and attended a year of Agriculture school.
In 2004, Aura returned to her native country, Venezuela, started surfing again, and together with some friends founded a NGO that facilitated environmental and sports education programs for poor kids and communities along the coasts. At this time she also began traveling some months out of the year to Panama, Puerto Rico, Hawaii, and Indonesia. She began designing clothes and took up surfing as a serious hobbie. Her love for surfing grew, and Aura was lucky enough to end up living on the North Shore of Oahu for 3 years where she studied massage and collaborated with several cultural and environmental organizations. Now she lives in Nicaragua, continues to do work with local communities, practices yoga, massage, surfing, and is making her dream come true of owning a beautiful piece of land where she intends to run an off the grid eco-walk and home stay. She believes in community unity, education, health, and sharing the love of the land and sea with all.
---
Emily Nanninga – Surf Instructor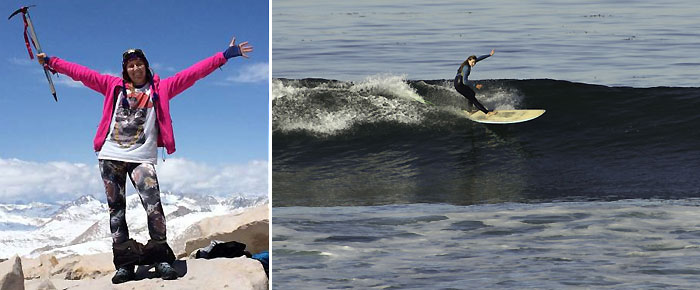 Born and raised in sunny San Diego, Emily grew up loving the beach, the water, and anything outdoors. So, naturally, when her mother brought home a $10 garage-sale surfboard in the summer of 2005, Emily was hooked, ready to terrorize the San Diego beaches with her mother who, thankfully, decided to pick up surfing again after a 20-year hiatus. After graduating from high school, Emily's love of swimming, surfing, and the ocean led her into a lifeguard tower, working the beaches every summer throughout college. During the UCSB school year, she kept herself busy surfing, rock climbing, and, beginning her third year there, working for UCSB Adventure Programs, where she led outdoor camping and backpacking trips and helped teach rock climbing, kayaking, and canyoneering classes. The years flew by until June of 2014 suddenly came, ending her time at UCSB with a tarred surfboard and an Environmental Studies degree. Upon graduating, she spent the rest of the year lifeguarding, surfing, leading camping trips, and just having fun running around the west coast. Now Emily's excited to start the new year off in Nicaragua with Surf with Amigas!
---
Helina Beck – Surf Instructor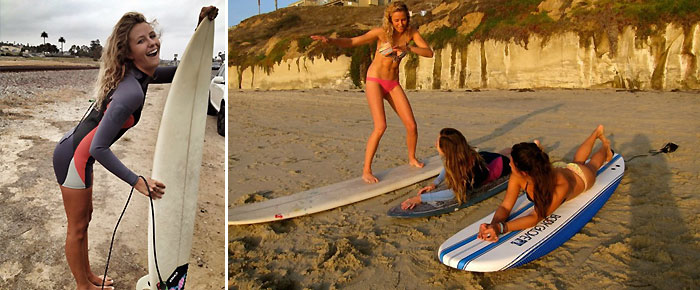 You may have guessed from the last name, but yes, Helina is Holly's little sister. Separated by 10 years in age, Holly and Helina didn't spend a whole lot of close time growing up, and yet they are the most similar of the five Beck girls. Most recently Helina started her own business – WaveHuggers – teaching surf lessons in Southern California. In her own words: "Ever since I was little, I had an obsession for the beach. I would spend hours sun bathing with my toes in the sand, lying in the shallow water while allowing the tide to roll me back and forth, and frolicking in the waves. My oldest sister, Holly  introduced me to the sport when I was about 8 years old. After a summer full of long days spent at the beach with Holly sharing her skills and love for the sport, I was hooked. Since then, I have surfed in many exotic places, including Nicaragua, Mexico, Panama, Hawaii and more. I also joined the competitive surf team in high school and am currently on the surf team at California State University, San Marcos. I decided to combine my surfing and teaching skills about 5 years ago, when I started teaching surf lessons. I have worked at camps for kids, and taught private lessons. I spent the summer of 2010 in Nicaragua, where I worked with Surf With Amigas and got to teach the underprivileged local kids how to surf. Bringing joy to these kids was a satisfying experience I will never forget. My love for surfing and the ocean gets me in the water every day, and motivates me to share with others the magical feeling of riding a wave and being one with the ocean."
---
Chloe Buckley – Surf Instructor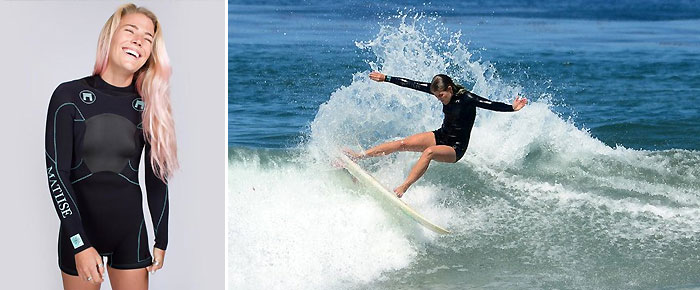 Chloe Buckley grew up in Del Mar, California. She started surfing in grade school and fell in love with the sport. If you couldn't find her at school that was usually because the waves were good and she always showed up to everything with wet hair. She began competing at the end of high school. In June 2010, at age 19, she won the Surfing America National Championship. From there she joined her college surf team and took first place in the state and third in the nation.
She spent the next 2 years traveling and got to compete in a few ASP events in Australia and Peru. Now she's back in school and looking to finish up and figure out what direction is the right one. During the summer she teaches a group of young girls between the ages of 5-10 to surf. "I love teaching these young girls how to surf. It's a great feeling to help them get over their fears of the ocean and help show them they can do it all on their own." In her free time she likes to draw and paint and absolutely loves live music. Sun, sand and surf remain her priority and spreading STOKE will always be a part of her daily activities.