Advanced Longboard Coaching by Jen Smith during our regular retreats Sept 30-Oct 7 and Oct 7-14 in Southern Nicaragua.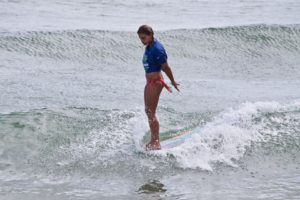 2xWorld Longboard Champ Jen Smith will be on hand to demonstrate beautiful longboarding during our Southern Nicaragua retreats in the fall. She'll be available to help Amigas improve their longboard skills whether that be learning to walk the board, hanging 5 for the first time, drop-knee turns, or working on style.
This retreat is open to ladies of all levels who ride all lengths of surfboards, but those more advanced long boarders will likely be broken up into a separate group to surf with Jen specifically depending on the conditions.
For more info or to sign up, as always, contact surfwithamigas@gmail.com!