Family Surf Retreat
Now that I have kids, and my 3.5 year old has started surfing, I'm getting really excited about hosting more family surf retreats. There's nothing more fun than sharing the love of surfing with family. Seeing your little one's eyes light up and that full face smile as they ride a wave alongside you is every bit as fulfilling as getting an amazing wave yourself – or so I've come to believe.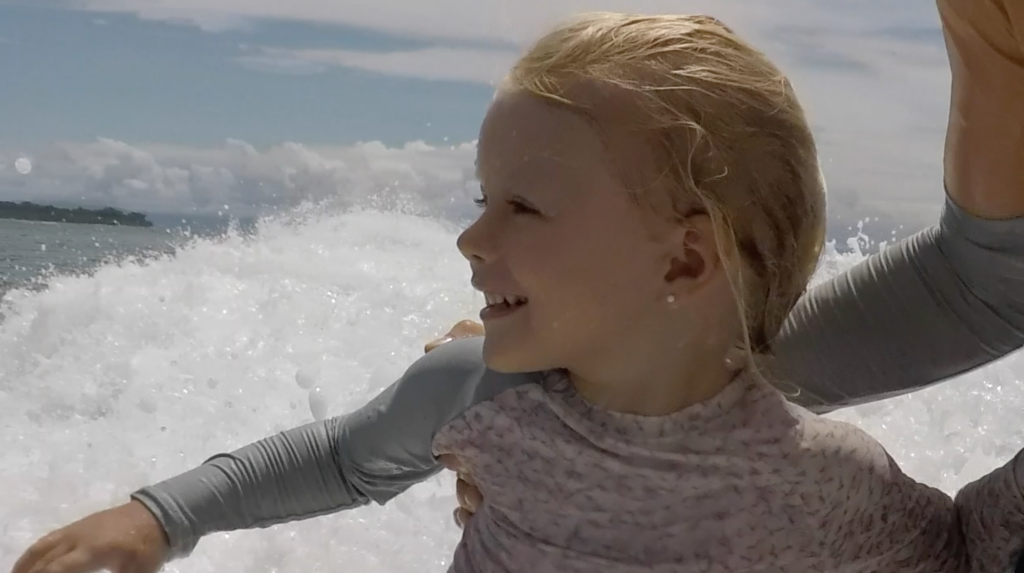 I've heard from lots of parents that are eager to get their kids into surfing that it's hard to do at home. The water is cold. Wrangling a wiggly kid into a full body wetsuit is not easy! Crowds and short dumpy waves make surfing scary for little ones.
Costa Rica is the perfect Place for Kids to learn to surf
My daughter has been surfing with me since she was in utero. I've introduced her to surfing on the board with me many times, starting when she was 10 months old. She did it, but she was never begging to go. I didn't push it. If she said she'd rather play on the beach, I left it at that. Then one day something clicked for her, and now she's been surfing pretty much every day. Even days I feel like taking a day off, she'll get up, put her little surf leggings on, and ask me to go surfing. The key has been the warm water, uncrowded surf spots, and in particular, having a channel to paddle out in. We can surf the whole session without getting our hair wet! If we do have to dive under a wave, it's rarely more than one or two in a row.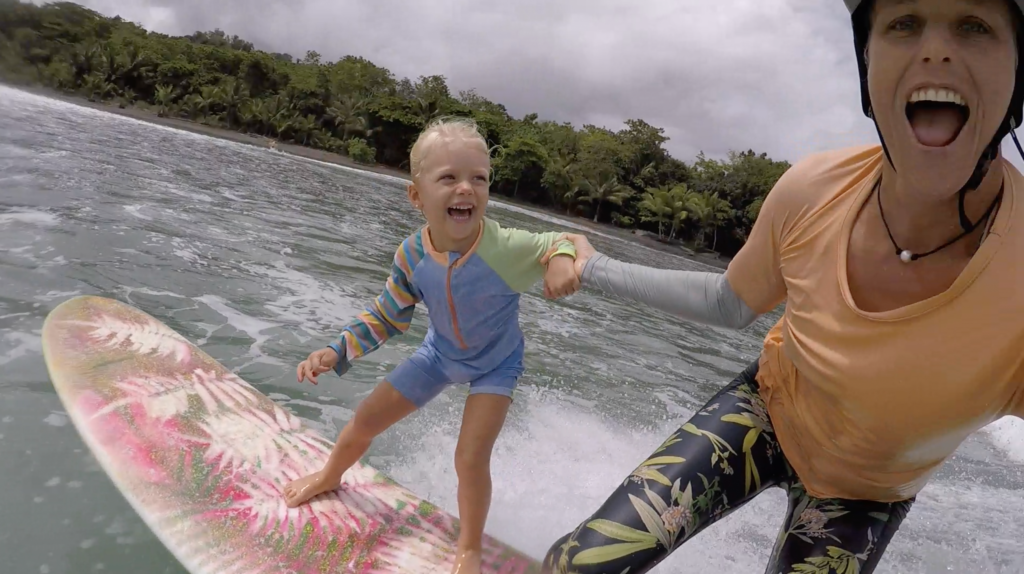 The process of getting her into the water and riding waves has been so fun and I've learned some techniques for making it easy and safe for everyone. I'm excited to share those tips with other parents and kids during our upcoming family retreat. On this first family retreat in Costa Rica, we do have some kids coming who are already surfing on their own little boards as well as a few that are just starting out riding with mom and dad. I'm stoked for Luna to hang with those slightly older kids and be inspired as well.
Family surf boat trip
We took the family including my sister, her husband and their 14 month old across the gulf on a family surf boat trip test run. It was a long day for the little ones, but they loved it!
Bring your family on a surf trip to costa rica
If you have a family that surfs together and you'd like to take everyone on a surf trip together, or you're hoping to get your family into it, we have more family retreats in the works at our longboard surf house location. Send me an email for more info! holly@surfwithamigas.com