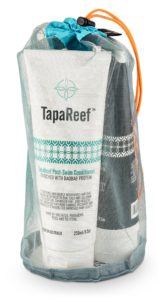 At Surf With Amigas, we love inspirational stories of women going out and doing something amazing for themselves and others. We recently met an Amiga named Christine who came on a retreat with a purple shortboard and so much style. She told us about her company Tapa Reef and hooked us up with some samples of the sunscreen removing wipes and shampoos and conditioners made to protect your hair from the ravages of salt and sun.
We tried the products and fell in love! They are all made from natural ingredients. Moisturising aloe, cucumber and fruit extracts quickly and gently remove water resistant and zinc sunscreen. They are paraben and sulphate free. No dyes, petrochemicals, PEGs or artificial fragrances. What's not to love?
Luckily, she is providing a discount code for amigas! Go check out the products and try something using the code AMIGAS for a great deal!
On to the inspiration portion of the post, check out Christine's story below: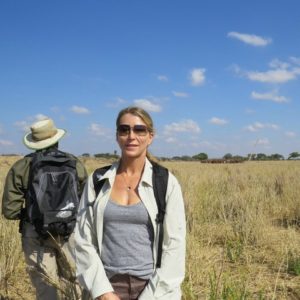 I have lived on islands my whole life – Aquidneck Island in Rhode Island through grade school, Kwajalein Island in the Marshall Islands for high school, the Barrier Island on the East Coast of Florida during university, a couple of working stints on Manhattan Island, a year working on the Island of Guam in the Marianas and then Australia (the "island continent") for the majority of my professional career. In between, family holidays were spent in the Hawaiian Islands and later, places like Bali and Fiji.  Not surprisingly, I have always been a swimmer and beach lover so when I met my husband, a keen surfer, during university, I was never going to be the type of girlfriend to sit on the beach and take photos.
Surfing quickly became one of my favourite hobbies and a professional career working for an international corporation became the means to travel and finance it. Problem was, in my line of work back then, golf was a respectable pastime to discuss with clients, surfing wasn't.  We even had a "professional" dress code and showing up to a meeting after an early morning session with traces of zinc on my face or with my hair trashed from being in the water all weekend wasn't going to play well on my performance review.  In addition, with two nights training in the pool turning my blond highlights green, I was constantly on the lookout for products to simplify the transition from sport to work.
Of course these days, surfing is much more mainstream but then again so is Instagram and Snapchat.  I was constantly meeting people who love their action sports but still want to maintain their appearance (no shame in that) and so the concept of "Live Big, Look Good" came about.
Part of my job was working in mergers and acquisitions and with startup companies.  I have always admired and envied entrepreneurs who were able to turn their passion into a lifestyle.  I realized I wasn't the only one with these issues and decided to draw on my background to see if I could start a company to develop the types products I was always looking for but couldn't find.
It was harder than I thought, but eventually I was able to find a great group of people – a cosmetic chemist, manufacturer, legal advisor, logistic specialist and a couple of brand ambassadors – who also love water sports, care about the environment and were willing to help pull this all together.  Two years in, it is still a hard slog but growing and it has definitely been a fun learning process!
If you're needing to stock up before your next retreat, Christine has offered a great travel pack. With the AMIGA code, you can get 10% off and she will include some free sunscreen remover for your next SWA trip. Click here!