During retreats, we offer an on-site mini boutique at all locations so that shopping for super cute and functional surfwear is an available activity.  Step right up and browse through the Suitcase Boutique!
For now, our stock consists of  fashion-forward rash guards and surf suits, board shorts made out of recycled material, and surf hats. Check out some of our inventory below, and email jackiegeorge211@gmail.com to check availability of the item and reserve sizes/colors for purchase during your retreat.
Amigas receive a twenty percent discount off retail prices when purchased through our store. We will be getting more inventory in before the January and February retreats, so check back for updates!
Seea offers a variety of fashion-forward surfwear for ladies. Check out a more detailed description on our website here and browse the gallery below for a few pieces that we have available in the Suitcase Boutique!
This slideshow requires JavaScript.
Greenlines is a company from the east coast that makes awesome boardshorts out of 100% recycled polyester and donates a portion of their profits to Surfrider Foundation. The shorts are comfortable, simple, and cute, and now available in our Suitcase Boutique!
This slideshow requires JavaScript.
Surf With Amigas is now selling a specialized surf hat made by an Tahoe based company called Crossen Surf. The owner, Chris, sent us a few demo hats a couple months ago, and the Amigas team was instantly addicted. Long hours in the bright sun tends to wear on skin and eyes, and the hat offers some shady protection for the face. The hat is comfortable in the water, does not move around, and keeps your hair back. They come in three fun colors, now available in the Suitcase Boutique! Check out the Crossen website for more info.
This slideshow requires JavaScript.
Surf With Amigas Custom Gear
We have recently added a custom rashguard and leggings to our boutique collection. Thanks to Danny Clayton, creator and curator of Salt Gypsy, we now have a few collaboration pieces that are both stylish and functional!  Check out the Salt Gypsy website and shop for more awesome pieces and the opportunity to create your own.
This slideshow requires JavaScript.
Surf With Amigas Recommended Products
In addition, we have compiled a bunch of products from Amazon that we use or recommend for surfing, living and traveling to Nica:


Visit our complete Amazon Store>>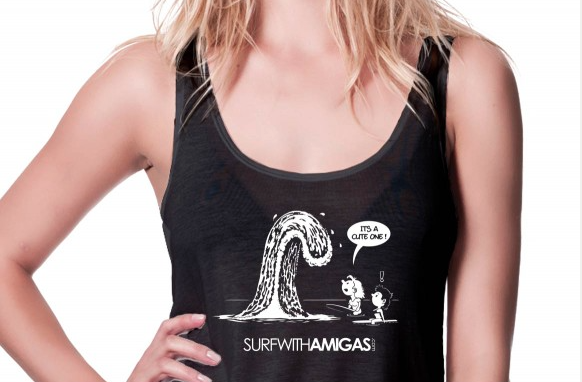 If you want to show off your love of Surf With Amigas, you can also buy this tank from our online partner at PalmeraLocal.com