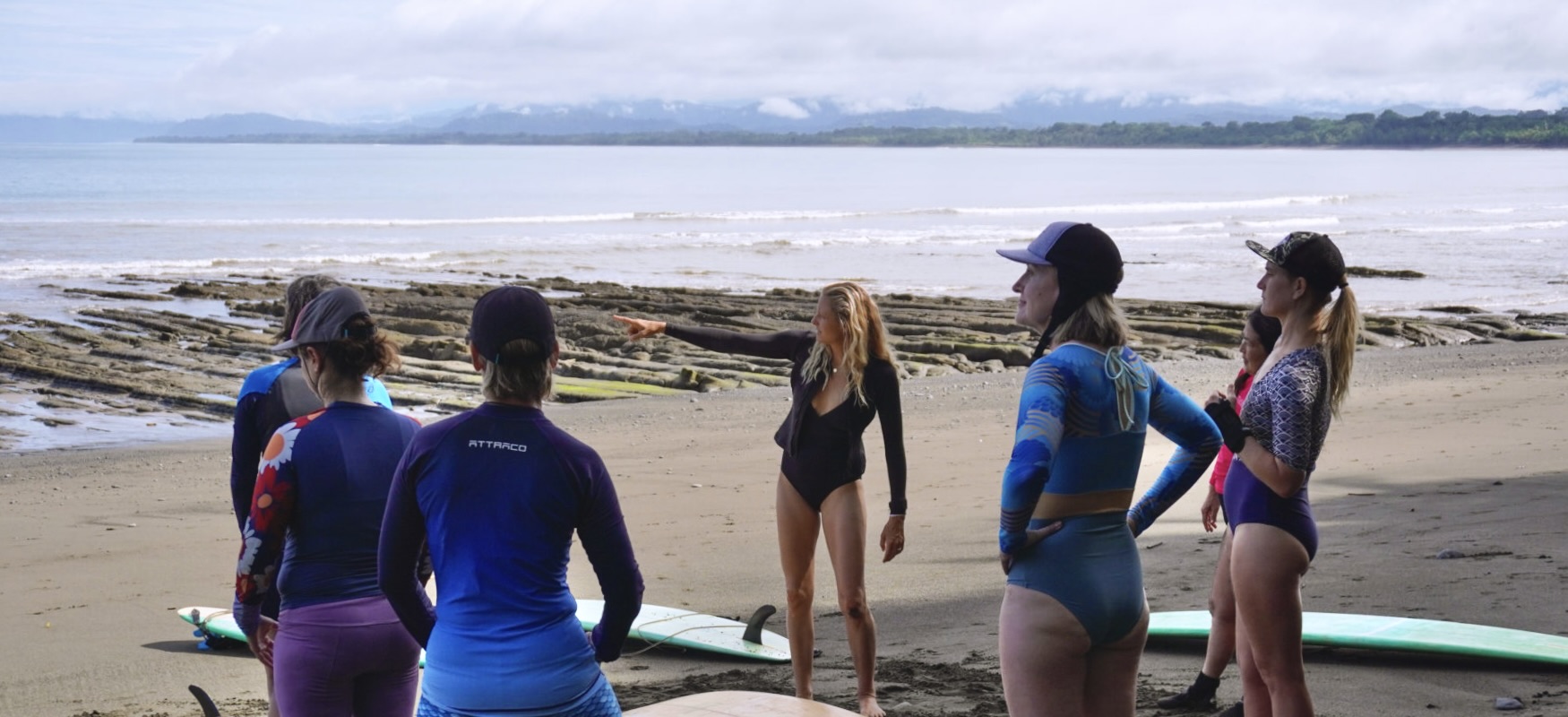 WHAT IS A HOLISTIC SURF COACHING RETREAT?
THE GOAL WITH OUR HOLISTIC SURF COACHING RETREATS IS TO APPROACH SURF COACHING FROM A MORE HOLISTIC PERSPECTIVE.
Surfing is about so much more than the physical aspect of choosing a board, choosing a break, paddling out, popping up, and riding the wave. Of course that's a huge part of it, but by only addressing those aspects, we're ignoring all the internal processes going on.  Some areas we'll consider as individuals and in group workshop sessions during the Holistic Surf Coaching retreats are:
What beliefs guide the creation of your goals in surfing (board choice, surf spot choice, dream maneuvers, etc.)?

How do you find your place (aka. belonging) in a crowded lineup?

What specific situations elicit fear and what happens to your body when you experience fear?

How to read a surf forecast and predict waves so we have the right tools ready to ride them (both ocean waves and waves of emotion)
BY IDENTIFYING WHAT WE EXPERIENCE EMOTIONALLY AROUND SURFING, THE UNCONSCIOUS BELIEFS AND INNER SELF TALK THAT HAPPENS AS A RESULT, WE CAN DEVELOP TECHNIQUES FOR SETTING REALISTIC ACHIEVABLE GOALS, GAIN TOOLS FOR OVERCOMING BARRIERS, AND WORK ON PRACTICAL SURFING SKILLS AT THE SAME TIME.
This is not therapy. Workshops will be present focused, and you do not need to bring up and share past traumas. That said, making connections to things that have happened in the past can be useful in understanding what occurs emotionally in the present. Participants are welcome to share to the extent that they feel comfortable, whatever that is.
Holistic Surf Coaching is for all surf experience-levels. Each retreat combines somatic mindfulness practices, yoga/meditation, journal prompts, SWA's highest standard of surf coaching, and unforgettable adventures that will bond you with your new life-long Amigas.
The primary focus is still surfing! Yes, we will surf every bit as much on these retreats as a standard SWA retreat! But those sessions will be more intentional and the surf coaches more trauma-informed.
---
What's the difference from a typical Surf With Amigas Retreat? More mindfulness + embodied practices to further support you – alongside our usual awesome surf coaching and adventures!

 
UPCOMING HOLISTIC SURF COACHING RETREATS:
Dec 30 -Jan 6 in Nicaragua *intermediate and advanced surfers only
Feb 24 – March 2 – Longboard Surf House
June 1- 8 Longboard Surf House
For more info or to book one of these retreats contac

t

[email protected]