We know you've been wanting to check out Bocas Del Toro. This retreat has been in the works for a long time, and we've finally found the perfect recipe for the best way to experience this unique corner of the world. Unlike our usual big group experience, this is more of an intimate guided surf adventure led by Michelle, a veteran SWA instructor in her hometown.
Our goal is to provide you with an authentic, local experience in a very unique community while scoring a variety of waves. We'll travel in small, personalized groups (4 guests max). As we cruise around, you will be instantly welcomed into the community and experience Bocas from a local's perspective. 
---
Surfing
Bocas has a great variety of waves, all accessible by boat.  We'll go out on surf adventures 1-3 times daily, exploring a variety of reef breaks, beach breaks, and points (depending on the swell and needs of the group). On the daily boat trips, Michelle will be your boat captain and surf coach/guide. We will try to book ladies together with similar surf experience levels to ensure everyone gets their fill of waves during the week. Some surf experience is required at this particular location. Advanced beginner to advanced amigas welcome!
Ability Level
At this location, we ask that guests have prior surf experience. Ideally you've been on a Surf With Amigas retreat before and already know the basics. There are a variety of waves including some nice friendly ones, but you must be able to paddle yourself back out to the lineup. Michelle will coach you into the lineup and help you select your wave, but you need to be able to paddle yourself back out afterwards. If you have doubts, send us an email and we'll chat about it.
Accommodations
You will be sleeping over the water in a classic Bocas-style hotel built on stilts over the warm Caribbean Sea. There's the option for a private or shared room. Michelle, your surf guide, lives right next door and will be picking you up to surf in her dinghy several times per day. Relax in a hammock and gaze out over the calm waters in between sessions.
Other Adventures
Biking adventure – We will cruise the main island by bicycle to get a view from land (since we will be spending a lot of time in the boat). Biking will allow us to access some of Bocas' gems that aren't readily accessible by boat.
Yoga – we'll have the opportunity to do yoga daily to stretch out our tired surfing muscles
Snorkeling trip – Depending on the swell we will go on a day trip to explore and snorkel on either Kusapin or Bird Island.
Night Out! – There is a lot of night life here in Bocas- anything from live music to reggae night to a full on club to let loose and dance!
Food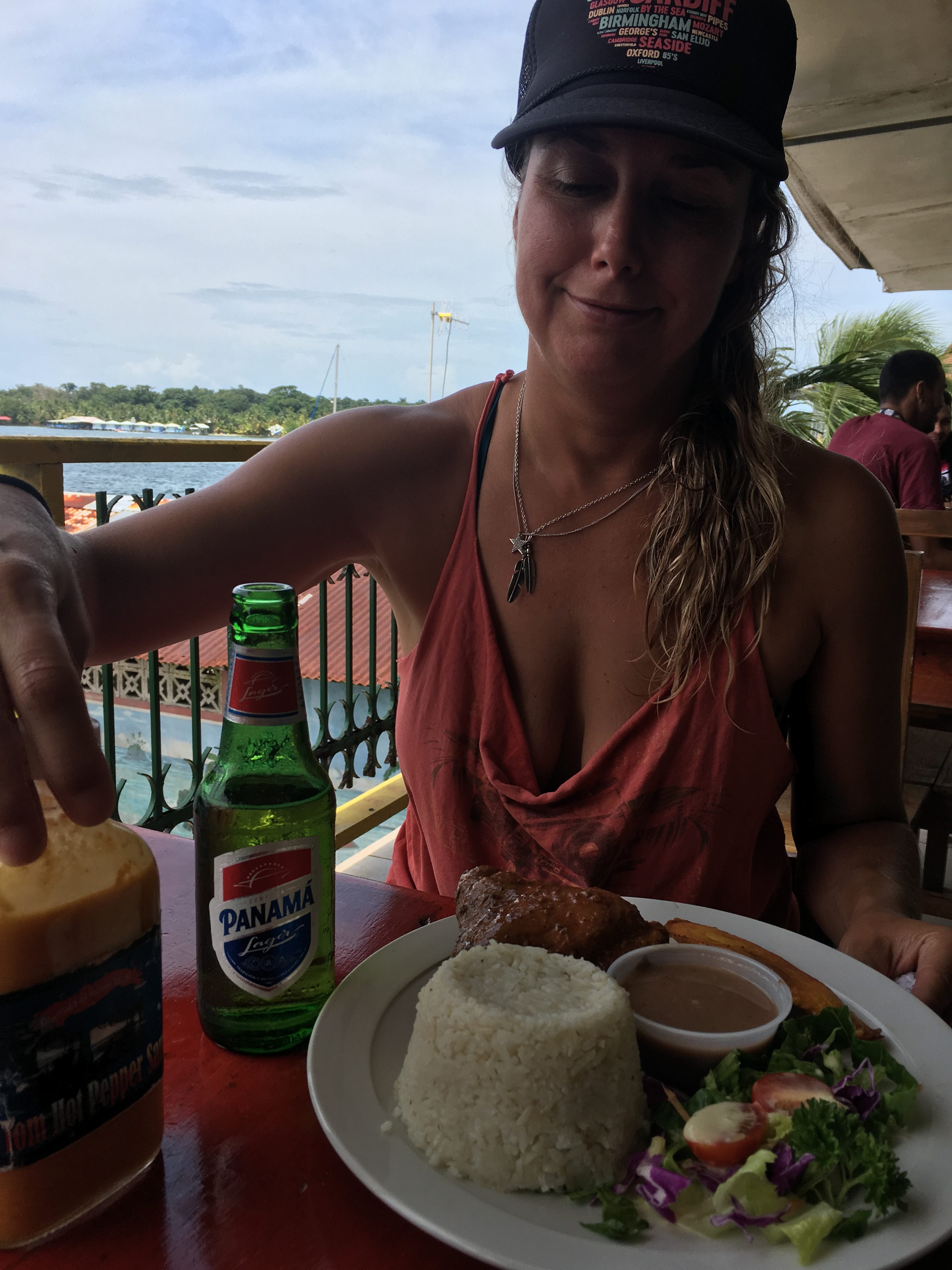 Breakfast – A basic breakfast will be provided (coffee, fruit, granola, pancakes, eggs, etc).
Lunch –  Lunch is also included. We'll mix it up by visiting different restaurants everyday on different islands before, after, or in between surf sessions. We will visit a variety of restaurants throughout the week so you can experience the local flavor. There are many options including vegetarian and gluten-free! Don't worry, if you get hungry during a surf session you can always paddle back to the boat which is always stocked with snacks and assorted drinks (both alcoholic and non-alcoholic)!
Dinner (not included in package) – For dinner you are on your own and encouraged to explore the town. Michelle will be showing you around and can make recommendations. Bocas has tons of restaurants with flavors and vibes to suit all sorts of desires.  
Price: Starting at $2450 for a private room, and $2200 per person to share a room. These retreats are small, personalized, and private with only four amigas per retreat! We can also accommodate couples at this location if you'd like to bring your significant other. Email us for more info! Holly@surfwithamigas.com
---
What's Included:
Two way transportation from the Bocas del Toro Airport (provided you arrive and depart on the designated days/times)
7 nights accommodation
Breakfast and lunch *dinner not included
Unlimited coffee and water
Daily individualized in-water surf coaching/instruction/guiding
Some GoPro footage from surf sessions
Surfboard rental
Daily yoga classes
other activities and explorations, electric bike rental in town, snorkeling, and ladies night out.
---
Dates available
January 27 – February 3 2021
February 20-27 2021
March 6-13 2021
March 23-30 2021
June 19-26 2021
July 3-10 2021
July 17-24 2021
July 31-Aug 7 2021
Aug 10-17 2021
Email us to request a different week that works better for you!

---
Booking Flights
Click here to view our Travel Info Document with instructions on booking flights and packing list.
---
About your trip leader, Michelle:
Michelle Kienlen has been working with Surf With Amigas for five years in Costa Rica and Nicaragua (as well as a couple trips to Pacific Panama, Puerto Rico, and Morocco) and has kept going back to Bocas on all her off time throughout the years. She knows the area like the back of her hand, and has all the spots (in the surf and out) dialed. She'll be the captain of her dingy, Beer Crush, and is excited to surf with you and show you around her home of the last five years. Originally from the Gulf Coast of Florida, she's always frothing to get waves and help you have an epic surf trip.