The Northern costa rica Retreat
Our Northern Costa Rica Surf & Yoga Retreat for women is great for ladies of all levels, from shortboard shredders to beginners. If you've never surfed before, we will teach you to surf in a safe supportive environment. If you already know how to surf and are looking to improve your skills in warm water, we will help you achieve your goals as well!
---
The Resort
Stay at a cute eight room boutique hotel, located a short stroll down a sand path to one of the most beautiful beaches in the world. Accommodations are very comfortable featuring rooms with two beds each (one twin, one double), air conditioning, ceiling fans, and ensuite bathrooms. The resort has a pool for cooling off and several hammocks for afternoon naps or reading sessions. There's a covered restaurant area and bar serving delicious food and cocktails where we will have our meals and do our video coaching and "classroom" sessions. The resort does have WiFi if you need to stay connected or get a bit of work done during your stay.
---
The Surf
The surf out front is all sandy beach break and one of the most consistent surf spots in Costa Rica. There are great waves for ladies looking to stand up on a surfboard for the very first time, as well as those looking to take existing skills to the next level. We suggest first time surfers join us at this location due to the sandy easy waves for learning to stand up, but this spot is great for everyone! We will break up the group by ability level so everyone gets coaching specific to their goals.
---
Northern Costa Rica Surf and Yoga Retreat Details
Price: $2500 for a room shared by 2, private room upgrade for $250 extra
What's Included:
Two way transportation from the Liberia Airport (provided you arrive and depart on the designated days/times)
7 nights accommodation in a shared room with Air Conditioning and ensuite bathroom (2 per room. Private room upgrades are sometimes available, email for availability)
4 deliciously healthy fresh meals per day (early morning cold breakfast, hot brunch, lunch, and dinner, plus dessert)
Unlimited coffee, tea, water, and juice
Daily individualized in-water surf coaching/instruction/guiding
Daily one on one post- session video coaching with one of our instructors
Video footage from surf sessions
A group of awesome new Amigas who may become your lifetime surfing friends!
Adventures such as horseback riding, boat trips, hiking, ladies night out, etc. Activities vary by week but are always awesome!
Optional Extras:
---
TO CHECK THE SCHEDULE AND BOOK AN UPCOMING RETREAT CLICK THE BUTTON BELOW

Please email [email protected] with any questions on booking.
---
Book Flights
To book your flight, fly directly into Liberia International Airport (LIR) or into San Jose, Costa Rica (SJO), then connect to a domestic flight to Liberia. The resort is only an hour from Liberia. For questions on booking flights or other options if you can't find an itinerary that works for you, send us an email!
---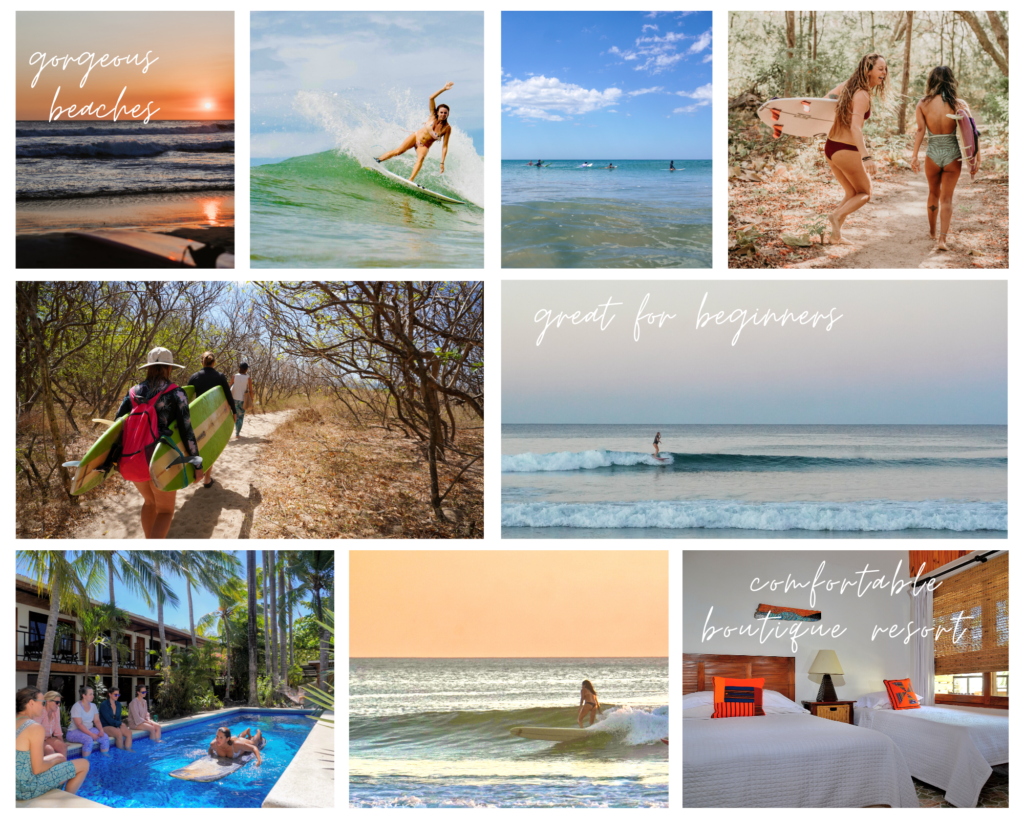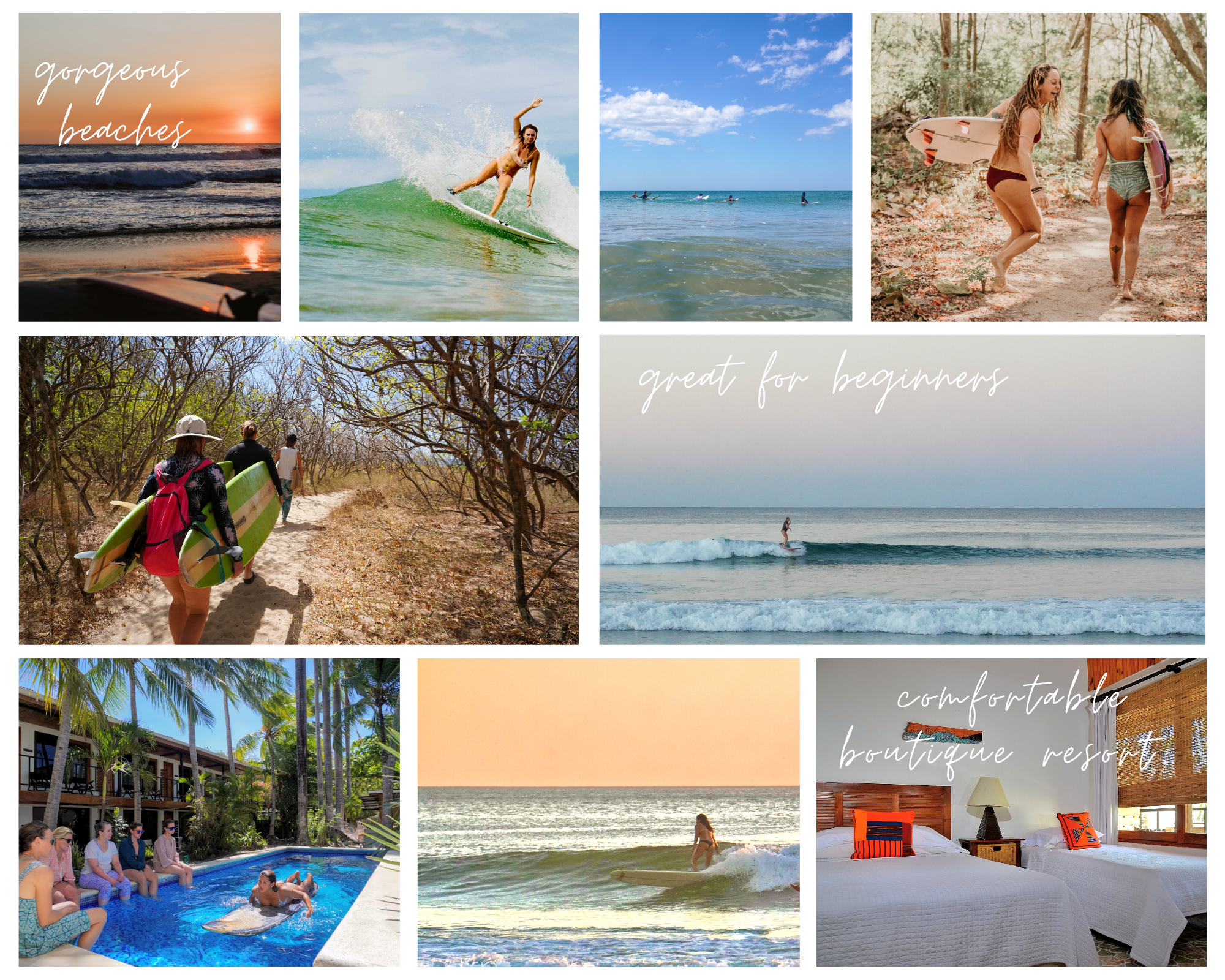 ---
Testimonial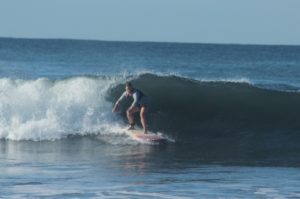 "I just got back from a spur of the moment week in Playa Grande. I'm becoming a bit of an SWA addict as this was my 5th week with them in the last year and a half – twice in northern Nicaragua and twice in southern Costa Rica.
I love both locations for all sorts of different reasons and always come home with the feeling that I've evolved just a bit more as a human, not just a surfer! I can't say i like one spot more than another as they all have something to give that the others don't. So Playa Grande is a fantastic set up…. Super comfortable rooms, amazing food and staff, great waves every day for a range of skill levels (yeah I know, lucky, but it happened!) short rides to get to the waves if you didn't surf out front, swank AC, even in the yoga studio. There is a spot on coffee shop everyone went to at least once a day, a couple great surf shops, bars and restaurants all in very close walking distance….. and we still had the waves mostly to ourselves. AND….its only an hour from the airport, which was a massive perk for me! I'm going back again in November, first with friends, then for a week with SWA." – Krista Lair