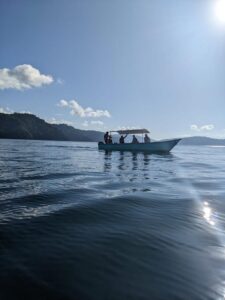 As our panga skimmed across the open expanse of the Gulfo Dulce in southern Costa Rica, I happily welcomed the view of the flat, glassy ocean that lay ahead. It pained me to admit it, but after months of non-stop surfing and coaching Amigas surf retreats, I had had a bit too much of a good thing. My paddle muscles were ready for a break and I couldn't be more excited to enjoy some ocean time that didn't involve waves.
I was on my way to participate in 4-day freediving and spearfishing course.  Although I had no formal freediving or spearfishing experience (besides that which comes along with snorkeling or the occasional SCUBA dive), properly learning both was a goal scrawled in the pages of my journals from previous years. I planned on joining the group with two other friends, also with limited experience, but all of us eager to learn more about how to deliberately sink below the surface and stay there, using only the gifts of our bodies and breath. 
My goal for the trip was to become better equipped with knowledge that would enable me to unlock a new facet of ocean experience. I'm no professional big wave surfer. I'm not accustomed to impressively long hold-downs, but still, I wanted to become more comfortable in the uncomfortable, not only in my surfing but also in the ocean in general. I'm also a fish lover and was excited to learn more about identifying fish and catching my own food, not just by standing on shore with a line in the water but totally immersed in the ocean, "evening the playing field" so to speak between the hunter and the hunted.
I feel that freediving, spearfishing, and surfing are three activities that perfectly blend. They are complementary, yet distinct avenues for engaging with the marine environment.
Continue reading "Freediving to Sunken Ships in the Gulfo Dulce"