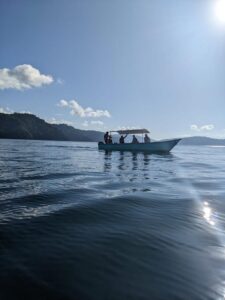 As our panga skimmed across the open expanse of the Gulfo Dulce in southern Costa Rica, I happily welcomed the view of the flat, glassy ocean that lay ahead. It pained me to admit it, but after months of non-stop surfing and coaching Amigas surf retreats, I had had a bit too much of a good thing. My paddle muscles were ready for a break and I couldn't be more excited to enjoy some ocean time that didn't involve waves.
I was on my way to participate in 4-day freediving and spearfishing course.  Although I had no formal freediving or spearfishing experience (besides that which comes along with snorkeling or the occasional SCUBA dive), properly learning both was a goal scrawled in the pages of my journals from previous years. I planned on joining the group with two other friends, also with limited experience, but all of us eager to learn more about how to deliberately sink below the surface and stay there, using only the gifts of our bodies and breath. 
My goal for the trip was to become better equipped with knowledge that would enable me to unlock a new facet of ocean experience. I'm no professional big wave surfer. I'm not accustomed to impressively long hold-downs, but still, I wanted to become more comfortable in the uncomfortable, not only in my surfing but also in the ocean in general. I'm also a fish lover and was excited to learn more about identifying fish and catching my own food, not just by standing on shore with a line in the water but totally immersed in the ocean, "evening the playing field" so to speak between the hunter and the hunted.
I feel that freediving, spearfishing, and surfing are three activities that perfectly blend. They are complementary, yet distinct avenues for engaging with the marine environment.
Upon arrival, we were welcomed off the boat by several friendly faces, including Jahza and Reymar, the two charming and welcoming brothers who run Dolphin Quest, a family-owned lodge tucked away in the Golfo Dulce, backed up by 700 acres of raw jungle. The week unfolded from there, each day planned around diving and activities to educate us about the diving world. On the first day we practiced safety techniques and static apnea in shallow water, basically holding your breath underwater and limiting movement. Jahza and Reymar taught us about the buddy system, how to recognize and prevent "shallow-water blackouts" (caused by lack of oxygen and an increase of CO2 in the bloodstream) and how to save an unconscious fellow diver. Although it's scary to think about saving your friend or blacking out underwater during a dive, diving has risks like any sport and I was grateful to have the opportunity to go through the safety steps in a comfortable environment.

On my first few attempts at static apnea, I struggled to pass the two-minute mark. My lungs demanded more oxygen and my mind was a spinning wheel of anxiety and overthinking. But I kept working on "breathe-ups," breath techniques to lower your heart rate and prepare your body for time spent underwater. After relaxing more and focusing on the feeling of my body held by the water, the soft rocking motions caused by the ripples that ebbed and flowed around me, I managed to go above three minutes, a time I never thought I'd reach!
It was exhilarating to challenge myself and push my body towards a goal, something I had never earnestly tried with just my breath before that week.

Over the course of our stay we enjoyed meals that made me feel more connected to the land and humans around me. Most of our food came straight from the garden or was harvested from the sea. I had a consistently happy belly, from morning noni and turmeric shots to green papaya curry. The patience and encouragement of everyone working with us was incredible, even as my initial attempts at spear fishing sent spears ricocheting off of rocks or somehow bouncing off the scales of fish. By the end of the week I had a chance to eat two fish that I had caught myself. I was also relieved to have a detox from my phone, not finding the time or desire to be wrapped up in any other experience other than the present physical one.
Another standout experience was line diving. Throughout the trip, we had the opportunity to practice descents, casually while snorkeling but also by line, involving a swim to the ocean floor while following a rope or line connected to the bottom with an anchor and held to the surface by a buoy. On our last day, Jahza and Reymar located a sunken sailboat at one of our dive spots around 58 ft. deep. My friend and I were determined to reach it. It would be the deepest both of us had ever dove using just our lungs.
We geared up with our weight belts, fins, mask and snorkel. With Jahza spotting us throughout the process, we first did our "breathe-up" and then began our descent. I followed my friend down, easing into the calm of the dive while our fingertips skimmed across the line beside us, using it as a guide and watching the depth tags (marked 5 meters, 10, etc.) trail behind me until I reached the bottom. After several eerie moments at the bottom, touching the wreck and poking my head into the belly of the ship, my lungs told me it was time to go back up. I began to feel contractions pulsing in my chest (a physical indicator your body needs oxygen) while I gently kicked towards the surface. I eagerly looked towards the shining blue water above me and awaited the fresh rush of air that would soon fill my lungs. As I breached at the surface, I felt a full-body high. I had done it!
Wallace J. Nichols, author of Blue Mind, a book that focuses on the science behind human connection to water, most aptly describes this state of being. He calls it "blue mind," "a mildly meditative state characterized by calm, peacefulness, unity, and a sense of general happiness and satisfaction with life in the moment."

Overall the week was pure bliss. Encouraged and inspired by nature, my group of friends and the DQ team, I was able to push my body's physical limits, feel the thrill of exploring underwater rock coves and even catch my own fish. I discovered a new form of play in the water and found joy in the ocean in a way that was not my norm.
For anyone interested in learning more about freediving, ocean exploration and expanding your comfort zone in and under the water, Dolphin Quest will be offering another Freediving Bootcamp April 17-23 (A great add-on to one of our retreats in Southern Costa Rica!). Contact Jahza for more information, via the DQ website or Instagram, @dolphinquestcostarica.