As surfers, we're constantly in the sun. Most of us are accustomed to that fried chicken feeling you get after surfing for a few hours, those sessions where you kept claiming "just one more," even while your skin roasts, turning alarming shades of red.
Although I love living close to the equator (8 degrees to be precise), my skin protests. My Irish ancestors weren't doing me any favors. I just wasn't built for the life of sun's out buns out.
Because I refuse to stop doing what I love, in recent years I've finally started to prioritize skincare. On one of my last retreats in Nicaragua, I hit the jackpot of skincare wisdom. Bunched around the lunch table after surfing, a group of Amigas and I started chatting about our skin routines and efforts to keep our skin feeling safe. We began firing questions at our Amiga, Malissa, who works as an Esthetician.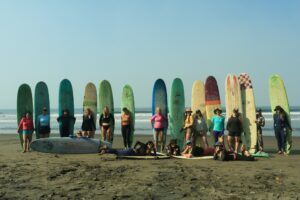 What follows are some of Malissa's hacks to perfect your skin routine. Malissa emphasized that we're all bound to age, form wrinkles, stretch marks and spots on our skin. We shouldn't sacrifice living the way we want in an attempt to prevent the inevitable! But we can better protect ourselves with the tools (most importantly hats, sunscreen and rashguards) to keep our skin supple and protected.
Why do you think skin care is important, does your routine change when you spend more time in the sun? Did your routine change this week on the retreat?
I think skin care is very important. It clears skin impurities off the skin, helps keep the skin clear, helps with signs of aging, and you need to use SPF to help prevent skin cancer. When I'm in the sun more I definitely am using more SPF, I will use lighter feeling products, and alway have a hat on.

My routine was definitely a little more minimal this week.   More SPF, just one serum, light moisturizer and no exfoliants.  I just wanted to have fun this week and not think too much about my skin. I was also tired at the end of the night and I wanted less to do.

What are the best preventive steps you can take daily to protect your skin?

A good cleanser, exfoliant, toner, moisturizer, and SPF! Once you have that, you can think about adding in a vitamin C serum, eye cream, and a retinol.
What is the most common issue you see for people with sun damaged skin?
Definitely melanoma (brown patches that appear on the face) that are usually from sun damage from years ago. Most brands have product for them, but whatever you are using, you need to be using SFP so they don't get worse. Laser would also be an option.
What's is your favorite product(s) to bring on a surf trip?
I would normally do more at home, but on this trip I brought Green Envee Clarify Cleansing gel. It has lime and turmeric in it that help calm inflammation in the skin. I have rosacea so it is good for that. You can smell the lime in it, it smells SO GOOD!

Eminence Strawberry Rhubarb hyaluronic serum. It helps plum up the skin and is very hydrating. Plus it smells like strawberries!!!

Eminence Strawberry Rhubarb hyaluronic hydrator. A very light gel moisturizer that smells just like the serum and it's a pretty pink color!

Eminence Hibiscus ultralift eye cream. A nice medium weight cream and it has a cooling roller ball applicator.

Sun Tegrity Milky Mineral Sun Serum Spray. It's a light SPF you spray on, it goes on white but rubs in with a dewy finish. Also it smells like mango/papaya (I think I have a thing for fruit!).

Other things I've use on this trip were a good SPF stick as a touch up before and after surfing:

My Chelle Sun Shield Stick SPF 50,

COOLA Liplux SPF 30. Don't forget your lips, ever.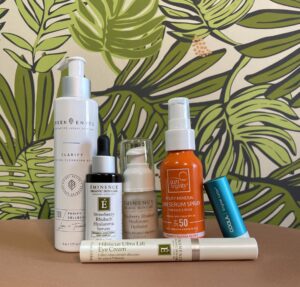 Does vitamin C/hyaluronic acid/gua sha work?
Vitamin C is great, its good for dull skin, fine lines, skin damage, and uneven skin tone. Once you start using it, it will take a few weeks to start working. And remember to not mix it with retinol. You can use it in the morning and then use retinol at night. If you mix them your skin could get irritated.

Hyaluronic acid might just be one of my favorite things! It helps hydrate, plump up the skin, soften the skin, smooth fine lines and wrinkles.

I honestly don't really know a lot about gua shua, I do think if you're consistent with it, it's helpful for puffiness, lines and lifting. I do know it feels great.
What is your favorite sunscreen, chemical or mineral? 
I personally like mineral sunscreen because I have rosacea, and I think mineral SPF is better for sensitive skin. That being said, I don't really think one is totally better than the other, I think it's just personal preference. You need to find what works best for you and your skin. I always go for a reef-friendly sunscreen.
Note: When searching for reef-friendly sunscreens, stay away from nanoparticle zinc! Although there is controversy over whether or not it is safe for human use, it most definitely is NOT reef safe. Look for labels and brands that advertise "non-nanoparticle." 
Is laser/red light therapy (LED) a good option for people with skin damage?
I think laser and red light therapy is good option for most people. (But alway check with your esthetician first).

I've had laser, but it was for my rosacea, not for sun damage. It works extremely well. It works great on melasma too. Keep in mind you will need a few treatments and touch-ups from time to time. If you do have laser treatment, then you really need to make sure you are good about SPF after, or damage will just come back. That is something to consider before getting laser.

There are a lot of different LED options that have different uses. Green light therapy would be what you'd want to treat melasma. It helps slow the melanin forming cells in the skin. This will help the melasma fade. Red light therapy is for anti-aging, reducing inflammation and increasing collagen. Blue light is good for acne. It helps kill bacteria in the skin.

Do you recommend using more/less product? 

I recommend using the products that you like to use. If you are someone that is more minimal, I would recommend using a few really good things.  If you are someone that wants to do a 10 step skin care routine at night, do that. I don't think skincare is one size fits all. I also think we go through different phases in life, so do what fits best for you at that time. Just like how I'm using less product on this surf retreat, I'll go home and add more stuff in.  Do what works for you at the time. But you should at least do the basics: use SPF! Not just to prevent aging but also skin cancer.
Are natural skin products better?
I use mostly natural/organic skin care – maybe 95% of what I'm using is. There are a few things that I just can't stop using that are not organic, like my OBAGI retinol (RETIVANCE). It is just so good!  This is embarrassing to say, but I also love Aquaphor! I had a surfboard hit me in the head a little over a year ago and after the stitches came out, I kept Aquaphor and SPF on it. I've never had anything heal up so fast.
In the end, it's all about finding what works for you. Just have fun with it. Try things. See what you like. Use a good SPF sunscreen!