Frequently Asked Questions:
"Can I try multiple surfboards during the retreat?
What surfboards will be available?
Do I need to bring my own surfboard?"
At all of our retreat locations, and particularly in Northern Nicaragua + Southern Costa Rica, we have large quivers with boards of all shapes and sizes to choose from. You can most certainly collaborate with our coaches to find the perfect board for you, and if you want to try multiple boards, just let us know! From shortboards, fish, and mid-lengths, to high performance longboards or more classic-style logs, we aim to have a well rounded bunch of boards for all lady surfers' preferences. 
We don't use soft-tops – Contrary to a lot of surf camps and schools, we do not believe in learning on soft-tops. Many surf schools that use soft tops use them because they are cheaper, more durable, and if there is a large student to instructor ratio, everyone can stay safe. The downside to using soft tops is that the fat rails and overly flexible board and fins, perform differently than a standard fiberglass board. Our philosophy is not to simply give you a "surf experience" but to teach you the tools to be able to go home and paddle out confidently on your own. We will teach you how to manage the board safely and you will progress in your surfing faster.
Here's how it usually works:
First, when you sign up for a retreat and fill out your Amiga profile,  we will ask for a few personal surf details including:
Prior surf experience if any (ability level, frequency, where you surf)
Board preference if you have one (size, shape)
Height + weight (to determine the most fitting board)
*if you have any questions about specific boards, be sure to email your retreat leader before your retreat begins.
Then, with this information our experienced surf coaches pre-assign the board(s) they think will most suit your surf level + preferences. When you arrive to the retreat you may start on that board, or pick another. You'll always have a chance to swap throughout the week with the available boards at the retreat. We recommend to make a note when you fill out your surf details sheet before the retreat if you're interested in trying multiple or very specific types of boards- so that our team can pull a few aside for you! *IF you are a short-boarder, we highly recommend traveling to the retreat with your own shred sled as our shortboard quiver is not as diverse as our quiver starting at 7′ long.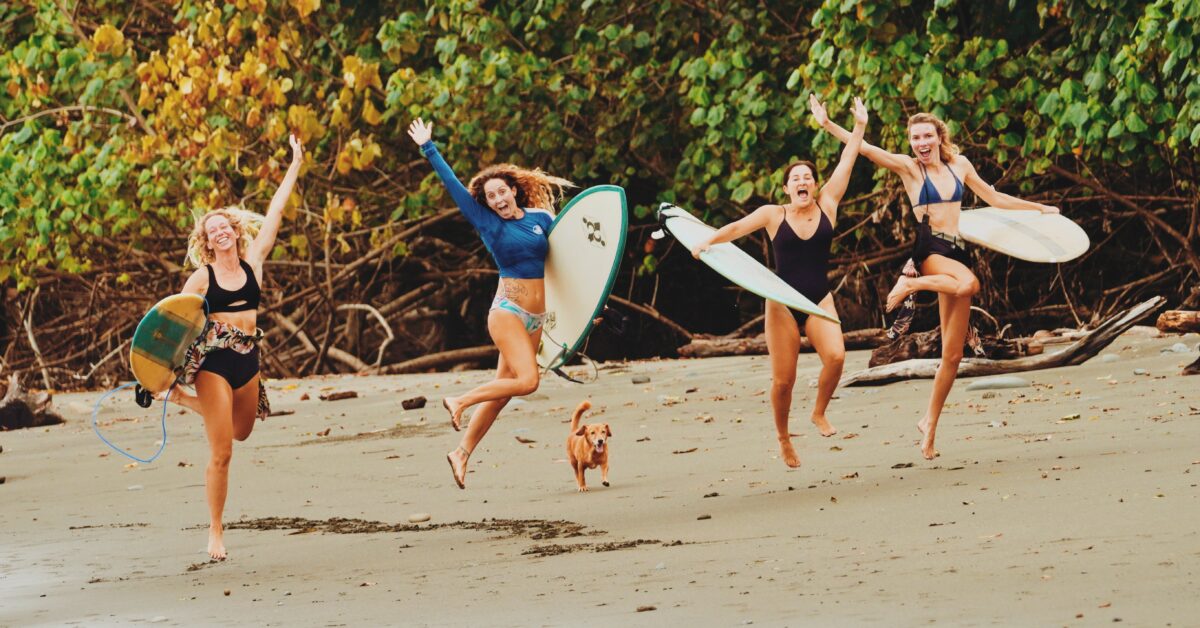 We will support you in reaching your surfing goals and assist in choosing the most appropriate surfboard(s) to move towards those goals!
 At Surf With Amigas we invest in offering high-quality surfboards for ladies of ALL surf levels across all of our retreat locations.
Have any questions about surfboard options at a specific retreat location? ASK HERE!