WE'RE BACK AGAIN TO CATCH UP WITH MORE ALUMNI AMIGAS THAT YOU MAY HAVE MET ON YOUR RETREAT!
This month we're chatting Q&A style with Brandy Flotten, a mother, fitness + nutrition coach, and inspiring amiga- who booked her first SWA retreat in a moment when she needed to focus on self-care most. Brandy has adventured with Amigas at various retreat locations including Nicaragua, Southern Costa Rica, and Northern Costa Rica, even joining us once with her beautiful family!
Over the years we've seen her commitment to helping women look and feel great shine through in everything she does- especially in the way that she shows up for herself and for others. We are inspired by the way Brandy discovered surfing as a tool to connect with a new community, boost her confidence, and feel more joy!
STAY TUNED FOR MONTHLY STORIES AND UPDATES FROM OUR GOOD FRIENDS ACROSS THE GLOBE.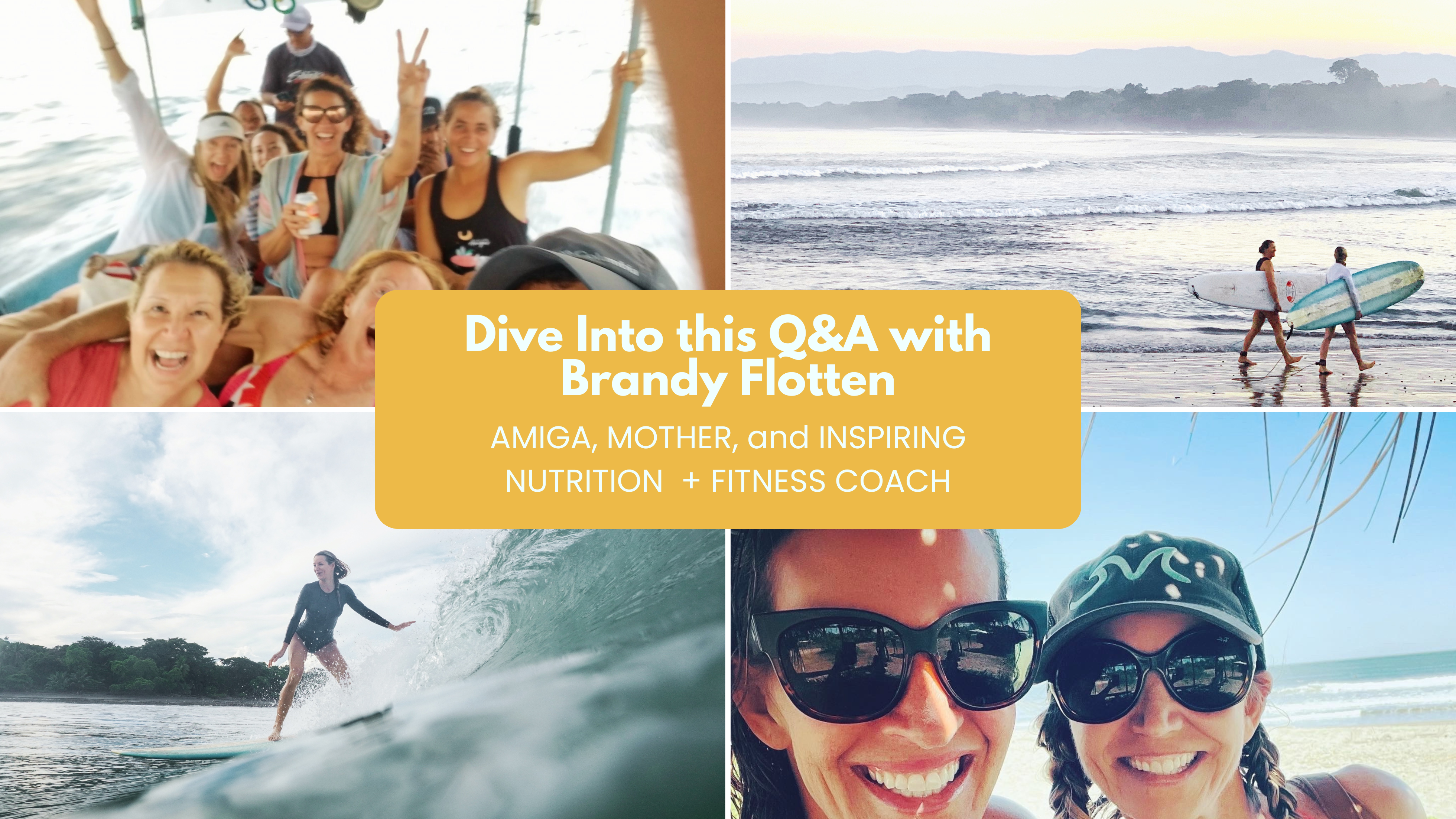 Q: Think back to when you attended your first SWA retreat. Why did you book that trip? What was that first retreat experience like for you?
A: I lost myself in my career and parenting years.  It wasn't until my confidence was at it's all time low that I decided to do something for myself, and I booked my first SWA Trip.  I discovered a challenge (a new sport I love), a community of incredibly strong women (not just physically), and most of all JOY.  I'm forever a fan ❤️❤️❤️❤️❤️
Q: Now that you've been on several SWA retreats, what keeps you coming back?
A: I absolutely love the format of Surf With Amigas, the quality of instruction, the amazingly talented (but oh so fun) coaches, and the type of women that a surf retreat attracts.  Each trip just gets better and better!
Q: Describe the feeling you get from surfing…
A: Surfing is much like stepping into a weightlifting gym for the first time.  So intimidating and obvious to spot the regulars who know what they are doing.  It's such a humbling and exhilarating sport and I absolutely love the challenge and the thrill of catching a wave on my own. 
Q: What are you most passionate about in life right now? The SWA community wants to know!
A: I'm passionate about supporting busy mamas.  I coach moms and busy women how to make themselves a priority in their busy lives with practical nutrition.

Q: What is your dream SWA retreat location? 
A: I'd love to try all the locations lol.
Q: What would you tell someone who is about to go on their first SWA retreat?  
A: You will LOVE it!
Q: Do you have your next surf trip planned? If so, give us all the deets!  
A: Well that's a silly question… of course!  I'm headed to Peru in April with a handful of Amigas I met on previous trips
*WE HOPE YOU ENJOYED LEARNING MORE ABOUT brandy'S JOURNEY IN SURFING AND IN LIFE. STAY TUNED TO MEET ANOTHER INSPIRING AMIGA NEXT MONTH. IN THE MEANTIME, CHECK OUT OUR MOST RECENT INTERVIEWS WITH DANIELLE GUSTAFSON & Grace Lee!