WE'RE BACK AGAIN TO CATCH UP WITH MORE ALUMNI AMIGAS THAT YOU MAY KNOW!
THIS MONTH WE'RE CHATTING Q+A STYLE WITH our friend grace who has joined swa retreats with the main goal being to reconnect with herself and to make new connections with others. STAY TUNED FOR MONTHLY STORIES AND UPDATES FROM OUR GOOD FRIENDS ACROSS THE GLOBE.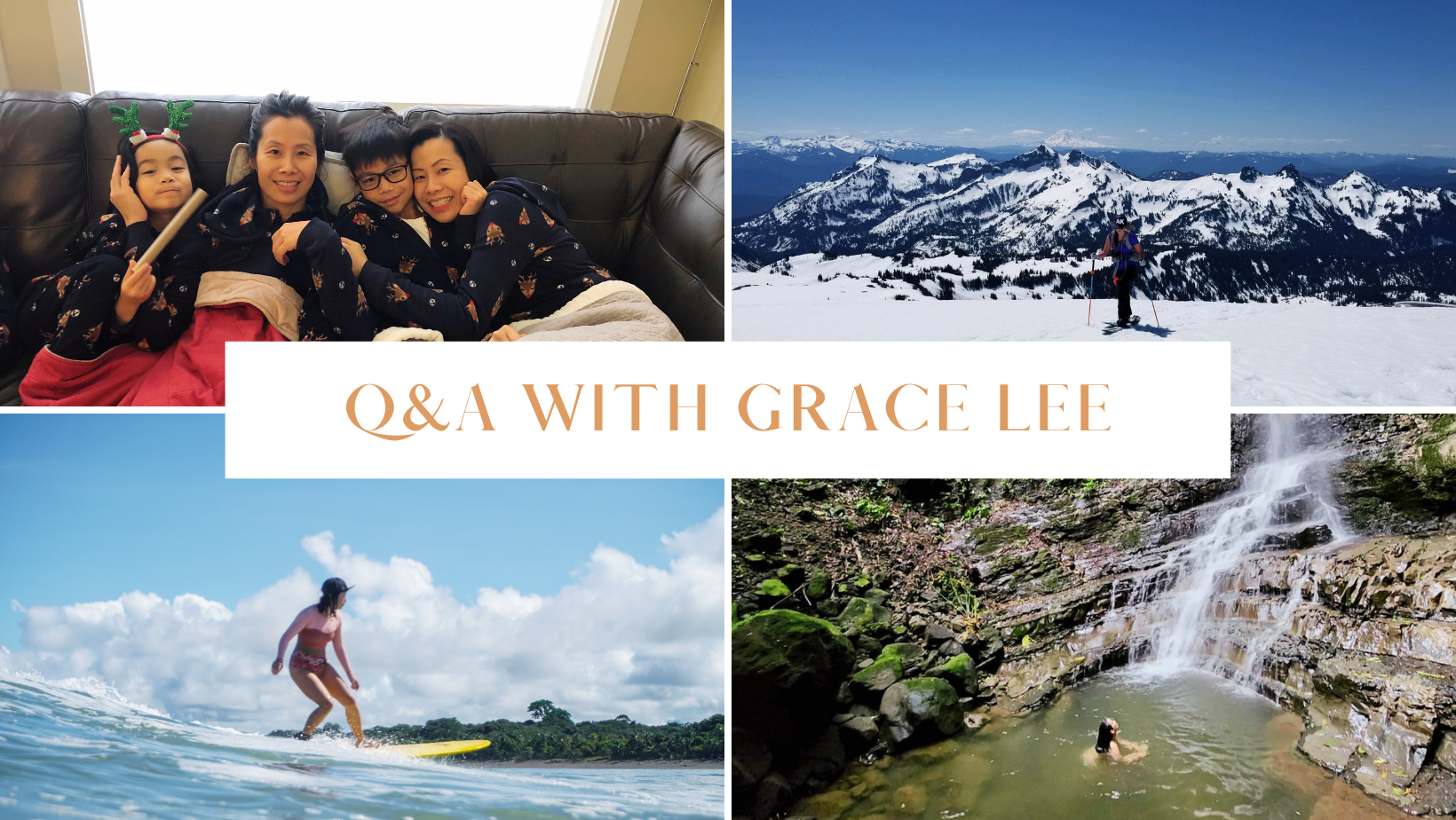 Q: Think back to when you attended your first SWA retreat. Why did you book that trip? What was that first retreat experience like for you?
I had actually been researching surf retreats and was ready to reserve a spot with a different group in Dominical area.  I asked my friend, Jaime if she was interested in joining me and found that for the exact same week she had already reserved with SWA – so she suggested I tag along with her! Best decision ever!
Q: Now that you've been on several SWA retreats, what keeps you coming back?
Holly and her wonderful staff, the awesome women I have met, the great knowledge shared in the clinics/lectures, feeling of community and FUN times! I had lost my connection to surfing for a few years with life happening… the goal for the Costa Rica retreat was to reconnect, which definitely happened. I wasn't even half way through Costa Rica retreat yet and booked Morocco! The Morocco holistic retreat that I joined took that further and I'm finally feeling like ME again… it's been a long time and it feels great!
Q: Describe the feeling you get from surfing…
Freedom… that's the best way I can describe it as it's difficult to put in words. When you catch a wave, you are in that moment and everything else is drowned out – you feel free and unhindered… as if you are a child again! I giggle riding down the line…!

Q: What are you most passionate about in life right now? The SWA community wants to know!
Making new connections and experiences through surfing, snowboarding, and travel adventures. Spending time with framily (friends + family)!
Q: What is your dream SWA retreat location?
Maldives! New Zealand! Holly knows this 🙂 
Q: What would you tell someone who is about to go on their first SWA retreat?
Go in with an open mind and heart, you will have wonderful experiences, make awesome connections, feel a sense of community/belonging, and grow as an individual and surfer!

Q: Do you have your next surf trip planned? If so, give us all the deets!
Of course!  INDO SWA 2023 here I come! In 2024, the goal is to do SWA retreat with my twin! ?
---
*WE HOPE YOU ENJOYED LEARNING MORE ABOUT GRACE'S JOURNEY IN SURFING AND IN LIFE. STAY TUNED TO MEET ANOTHER INSPIRING AMIGA NEXT MONTH. IN THE MEANTIME, CHECK OUT OUR MOST RECENT INTERVIEWS WITH DANIELLE GUSTAFSON & RONI GOLD !