As surfers, we're constantly in the sun. Most of us are accustomed to that fried chicken feeling you get after surfing for a few hours, those sessions where you kept claiming "just one more," even while your skin roasts, turning alarming shades of red.
Although I love living close to the equator (8 degrees to be precise), my skin protests. My Irish ancestors weren't doing me any favors. I just wasn't built for the life of sun's out buns out.
Because I refuse to stop doing what I love, in recent years I've finally started to prioritize skincare. On one of my last retreats in Nicaragua, I hit the jackpot of skincare wisdom. Bunched around the lunch table after surfing, a group of Amigas and I started chatting about our skin routines and efforts to keep our skin feeling safe. We began firing questions at our Amiga, Malissa, who works as an Esthetician.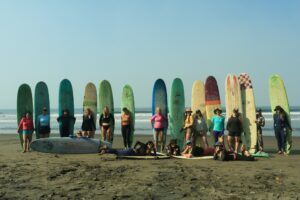 What follows are some of Malissa's hacks to perfect your skin routine. Malissa emphasized that we're all bound to age, form wrinkles, stretch marks and spots on our skin. We shouldn't sacrifice living the way we want in an attempt to prevent the inevitable! But we can better protect ourselves with the tools (most importantly hats, sunscreen and rashguards) to keep our skin supple and protected.
Why do you think skin care is important, does your routine change when you spend more time in the sun? Did your routine change this week on the retreat?
I think skin care is very important. It clears skin impurities off the skin, helps keep the skin clear, helps with signs of aging, and you need to use SPF to help prevent skin cancer. When I'm in the sun more I definitely am using more SPF, I will use lighter feeling products, and alway have a hat on.

My routine was definitely a little more minimal this week.   More SPF, just one serum, light moisturizer and no exfoliants.  I just wanted to have fun this week and not think too much about my skin. I was also tired at the end of the night and I wanted less to do.

What are the best preventive steps you can take daily to protect your skin?

A good cleanser, exfoliant, toner, moisturizer, and SPF! Once you have that, you can think about adding in a vitamin C serum, eye cream, and a retinol.