Civil Unrest in Nicaragua
Nicaragua is currently undergoing a time of change marked by widespread civil unrest. The situation has been largely ignored by the mainstream media in the US and Canada, and many of our friends, guests, and potential guests have no idea that anything is happening.
Moving Retreats to Costa Rica
In an abundance of caution we moved all our summer retreats that had been scheduled to be held in Nicaragua to Costa Rica. We are monitoring the situation closely and hoping for some positive change, but rather than wait 'til the last minute, we have made the decision to move November retreats to Costa Rica as well. We hope that we will be able to return to Nicaragua and assure a safe and awesome retreat experience for all our guests very soon, but we may end up moving December and early 2019 retreats as well. Read and watch below for the full story.
What's Happening in NIcaragua Right now
The video above is a short summary published in early June. The death toll has since risen and continues to rise by a few every day as police and government forces violently repress protestors. What started as a complaint against a mismanaged forrest fire, and then grew with an announced unpopular overhaul of the social security system, has turned into a country-wide demand that the President and his wife, the Vice President, step down.
why is this happening?
The government responded to peaceful protests with violent repression. Police and other pro-government forces tried to break up protests with live ammunition, kidnappings, torture, and disappearances leading to many deaths, and many more injured or disappeared. Once university students started dying, the general population joined in the uprising with even bigger protests. Each time the government responds with brutal violent repression, the demand that the President leave office grows louder.
The vast majority of Nicaraguans do not have guns or other effective weapons for use in defending themselves. Armed with stones, machetes, and homemade mortars, the people have pulled up the paving stones of the streets and erected road blocks to try to stop commerce in the country as well as slow down the government's shock forces. City and nationwide strikes have taken place. As a result of road blocks and strikes, food and fuel is scarce in some communities.
Throughout these issues, the beach areas have remained safe and secure. Life goes on as normal in beach towns where amazing waves are breaking with many lesser crowds than normal. The violence is not directed at tourists or foreign residents. It is still possible and safe for tourists to travel from the airport to the beach towns and enjoy an awesome week of empty beaches and waves. Many surf resorts are imploring guests to continue visiting and assuring them that it is safe to do so. Others are temporarily closing their doors due to an absence of guests.
First Hand Experience
My husband flew into Nicaragua a few days ago (June 16th). The driver picked him up from the airport and took him on a very circuitous route to get out of Managua without going through any road blocks. There was one road block that was unavoidable between the airport and our home at the beach in Northern Nicaragua. When approaching the road block, the driver passed a long line of waiting trucks and other vehicles to get to the front of the line. My husband was politely asked to get out of the car and state his business. His bags were searched and then he was allowed to pass. The protestor wielding a homemade mortar was respectful and only asked that my husband spread the news about what is happening in Nicaragua – that the roadblocks are the only tools the people have to try to affect change in their country.
Stopping at the grocery store, he noticed a lack of many normal staples on the shelves. Even at the more expensive gringo-friendly store, there were no eggs or bread available to buy. The road blocks have limited travel of supply trucks so many stores are faced with shortages.
Should you travel to nicaragua right now?
My husband was understandably nervous while going through the road block, but said he didn't feel unsafe. Individual surf tourists or those that wouldn't be nervous about experiencing passing through road blocks guarded by armed, masked men can and should still visit Nicaragua and support the resorts and local people who rely on tourism that are hurting right now. If you're interested in visiting Southern Nicaragua (the Popoyo, Rancho Santana, and Colorado zone), you could fly from Managua to Emerald Coast airport and skip all the road blocks. That would be one safe option. Unfortunately there is no local airport near our Northern area, and no way to skip the road blocks completely.
We don't feel comfortable sending van loads of women to go through this. We also don't know what will happen next week or next month as the situation has been changing daily. So far things have been on a negative trajectory and it may get even worse before it gets better, although we definitely hope not. For these reasons we have decided to temporarily move all our retreats to Costa Rica where everything is peaceful and we don't have to stress about safe and timely arrivals and departures.
If you are signed up for a winter or spring retreat in Nicaragua, please standby. We may be reaching out to you soon with instructions on rebooking your trip to Costa Rica. If you had been interested in joining us in Nicaragua, you may need to wait til next year. We will be following the situation and as soon as we feel confident in assuring your safe and peaceful arrival to Nicaragua, we will resume retreats there. In the meantime, Costa Rica is amazing and an awesome place to join us on a surf and yoga retreat this year!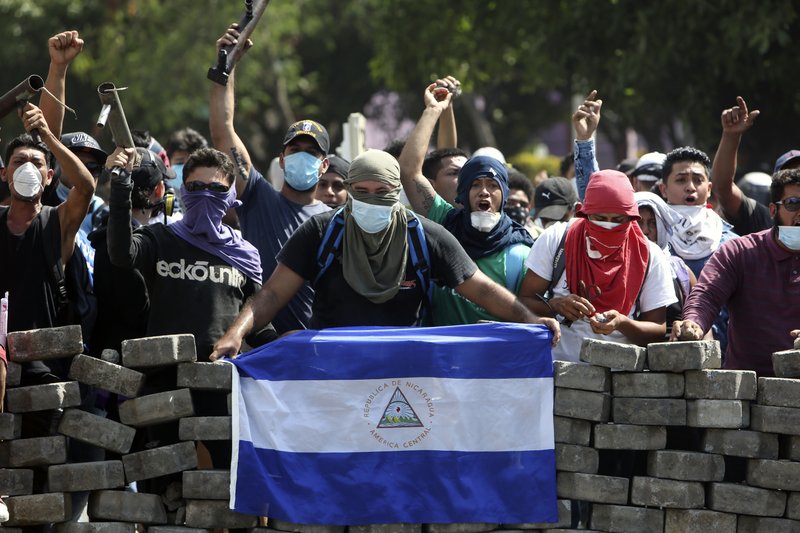 The following article was published by CNBC on June 15th if you'd like more info.
Molotov cocktails and state-led violence: How Nicaragua is slipping into Venezuela-crisis territory
For nearly two months now, Nicaragua has been coming apart at the seams.
The Central American nation of 6 million has been rocked by popular protests and state-level violence since mid-April, and on Thursday night completed 24 hours of a nationwide worker strike in an attempt to push out longtime leader Daniel Ortega and his wife, Rosario Murillo.
Human rights groups say more than 150 people have been killed since April 18, as peaceful protests initially meant to oppose social security reforms were met with beatings and civilian deaths at the hands of state security forces, subsequently spiraling into a much larger political movement.
The economic reform measure, which would have upped workers' social security contributions but cut pensions for retired workers, sparked such backlash that the government revoked it. But by that time public anger at the protester deaths was irreversible. The pension cut was aimed at stopping the widening deficit in a country already ranked the poorest in Central America and the second-poorest in the western hemisphere after Haiti.
The demonstrations, largely led by the youth and students, as well as pensioners, unions and religious leaders, have since escalated into a struggle that's seeing locals wield homemade mortars and Molotov cocktails against the live rounds of government forces and paramilitaries allied with the president.
Schools, universities and banks have shut their doors and locals are having trouble leaving the country and accessing money, according to residents. Time Magazine described the country as being in "full cardiac arrest," and many fear Nicaragua is on its way to becoming the next Venezuela.
Kidnappings and killings: 'They just take you'
"If I were to go out, just by walking in the streets, I run the danger of getting kidnapped. Even if you're not a part of it, if you're in the wrong place at the wrong time you can get killed," said Laura Fava, a 19-year-old student living in the capital Managua, speaking to CNBC via phone. Her school has been closed for six weeks and she describes hearing gunfire and the thud of homemade weapons from her house.
"It's really scary because people are being taken and they don't give you a reason — they just take you," Fava said.
Locals have built numerous barricades around cities, suburbs and highways as "shock groups" — paramilitary units supporting the government of President Ortega — confront demonstrators with deadly force. The Inter American Commission of Human Rights and Amnesty International have accused the Nicaraguan government of disproportionate use of force and condemned extrajudicial killings, arbitrary detention and torture of protesters.
Ortega's supporters, meanwhile, have staged counter-demonstrations, and the government and state media deny civilian killings while insisting that the protests are infiltrated by criminal gangs. Ortega and his unpopular wife, who serves as vice president, have called the police violence a "legitimate defense" against these groups. Ortega was democratically elected in 2006, but has since been accused of mounting repression and media censorship.
Violent response threatens economic progress
Seen by many as a revolutionary hero, Ortega also ran the country from 1979 to 1990 and led the Sandinista National Liberation Front in defiance of the Ronald Reagan administration during the Cold War. His leftist policies and close friendship with Venezuelan strongmen Hugo Chavez and Victor Maduro have kept him largely at odds with Washington — the U.S. House of Representatives in late 2017 passed a sanctions bill aimed at choking Nicaragua's international loan access, which critics said would trigger a humanitarian crisis in a nation where 30 percent of the population lives on less than $2 a day.
Still, pro-business reforms by Ortega have helped the economy grow by between 4 and 5 percent a year since 2011 and have garnered Nicaragua praise from the World Bank for its "disciplined macroeconomic policies."
Tourism has grown more than 400 percent since 2005, and an increasing number of foreigners are buying property along the country's sun-washed beaches. The government has also pursued public-private partnerships alongside populist policies that have largely subsidized its country's poor. Now, that economic success is under threat.
"Nicaragua under Ortega had been promoting itself as the safest country in Central America with an effective police force and a stable place for business and investment," said James Bosworth, founder of Hxagon, a firm specializing in political risk investigations in emerging markets.
"All of the aspects to that reputation have been ruined by the Ortega government's repressive and violent response to the peaceful protests."
A 'peaceful exit'
Protestors are calling for the "peaceful exit" of the president and his wife and demanding early elections, and the military's neutral position thus far does not bode well for Ortega.
"Events appear to be moving inexorably toward Ortega's removal, whether voluntarily or by force, before the completion of his current term," said Christopher McKee, CEO of risk analysis firm PRS Group.
But an early exit could extend the instability — in the absence of a stable coalition to replace Ortega, a vacuum could allow the infiltration of state institutions by criminal gangs.
"Ortega's early removal from power carries an inherent risk of increased instability and violence in a region already troubled by an epidemic of both," McKee said, describing the possible spillover of instability from neighboring Honduras and Guatemala. "If Ortega goes, the center will not likely hold."
Meanwhile, the protesters have united in agreement that a transition back to democracy is essential. But many fear the ongoing repression, crippling of local institutions and disintegration of the rule of law is pushing Nicaragua closer to a crisis like that of Venezuela.
Venezuela-level crisis?
"Ortega has refused to agree to an early exit. He hopes that he can follow the recent models of Venezuela and Honduras in successfully repressing the anti-government protests through violence and detentions of opposition activists," Bosworth said. Venezuela, suffering heavy state repression, gang violence, hyperinflation and a widespread food shortage, has been named one of the world's most urgent humanitarian crises.
"We're not close to Venezuela yet, but if this goes on, we will eventually turn into that," Fava worried. "What the people want is that Ortega just leaves and that they stop the killings."
Protesters have been calling on international governments and organizations for help, expressing frustration via social media that the turmoil in their home is being largely ignored. But they become more defiant as the crackdown intensifies, with many writing on Twitter, "We are going to keep resisting until this government resigns."
In the absence of some sort of settlement, existence for many Nicaraguans remains a precarious, day-by-day struggle. "There is literally no authority in the cities — if you call the police, there is no one," Fava said. "You have to take care of yourself."