The cross step. Both graceful and functional, it's how us long boarders really use the entire surfboard, from front to back & back to front. It's how the most talented surfers dance and trim their way to the nose.
Ready to transform your longboard shuffle into a graceful cross step? Keep reading.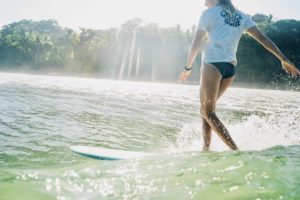 Start here: Practice on land!
Repetition of the cross step (or any technical surf skill) on solid ground will implant the physical movements into your muscle memory. If you can master the cross step on land, you'll have a better chance of accessing the fancy footwork once on your surf board.
Cross step as you walk through the kitchen, while checking the waves, or while playing on your yoga mat. Practice it everywhere! Once the movement feels completely fluid and natural you can take it to the water.
The Setup:
The cross step setup goes like this- First, drop into your wave and get going down the line. Think about placing your feet closer to the inside rail of your surfboard, the rail that's tucked into the wall of the wave. Then, it's all about the stall. Shift your weight onto your back foot in order to slow down and steer the board up towards the top third of the wave. The stall often resembles a bottom turn, depending on the size and shape of the wave.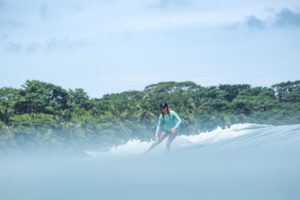 Taking the Step:
After the stall, it's time to take the step(s). Shift your hips forward then let the feet follow. The back foot crosses over the front. To start, just cross your feet, hold, then right step back into your normal stance. Step lightly. Once this movement feels more comfortable, try and take a few more steps. The end goal is to take as many steps as needed (usually 2 or 3) in order to get your toes all the way to the nose.
Check out this video of SWA Co-Owner Jackie styling through a stall-to-cross-step combo during a Surf With Amigas Morocco retreat.
*As always, remember to take it slow, laugh through the wipeouts (there will likely be a lot of them), and surf with other ladies who inspire you to surf more + have fun!