I was talking to a group of Amigas recently who were asking about various aged participants and was reminded of this story. It's such a good one that I wanted to share. Read below about the incredibly inspirational Genie!
Learning to surf after age 50
Genie learned to surf at age 50 in order to share the sport with her son who was a surfer. She then joined us on her first retreat in Nicaragua as a 67 year old, to take her surfing to the next level with a group of other supportive women, and practice yoga. We do often have ladies join us in their late 50s and even 60s, but Genie is a special case. Vivacious, hilarious, energetic, not to mention looking amazing in her bikini, we were all immediately so inspired.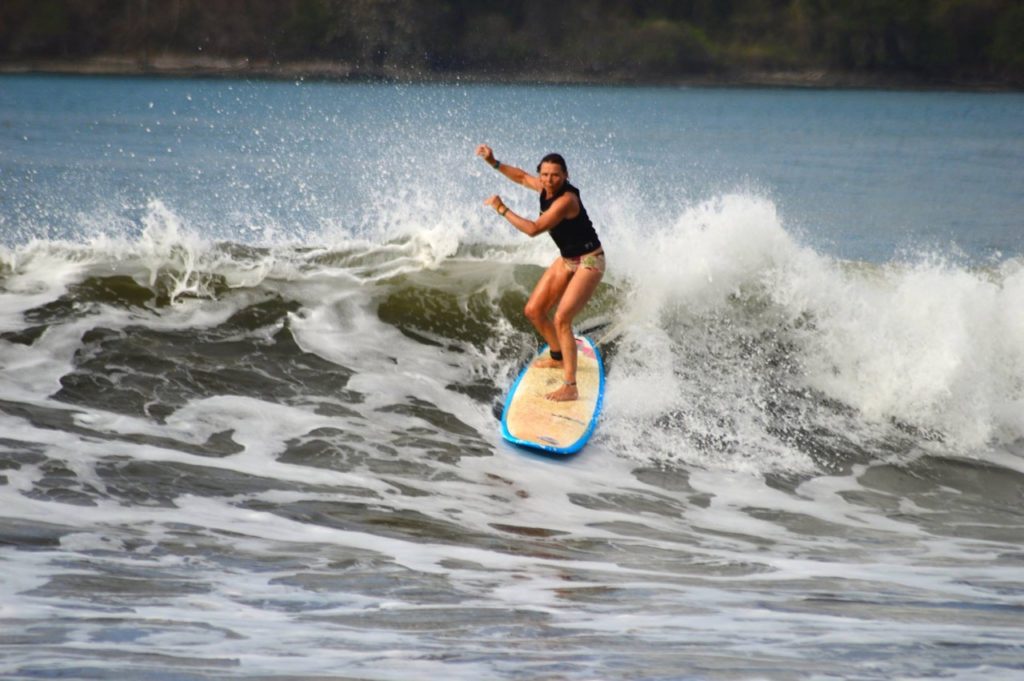 Genie Joins us In El Salvador
For Genie's second retreat she joined us in El Salvador. The particular spot we were surfing is called Sunzal. It's a very user-friendly spot in that the waves are relatively easy to surf and not very steep for the most part, BUT it is a swell magnet. Even if there's no swell in the water at all, the waves will be head high. With an actual swell running, the spot will attract very large waves.
Overcoming Fear
No matter how big the waves are at Sunzal, there is always a wide open channel making it easy to paddle out. Easy, once you get past the shore break that is… On higher tides the shore break is massive. Powerful shore break waves pound against a steeply sloped rocky beach making for very exciting paddle outs and even more challenging paddle-ins. Not only do you have shore break to deal with, but a strong side-shore current that pulls you further down the beach where the shore break is even worse! Mistiming the exit to the beach means you get sucked down to a very dangerous spot and have to fight a very strong current to get back to the safer zone.
On the way out to the lineup, once you get past the shore break though, it's smooth sailing and often a dry hair paddle out. At that point it's just about trusting yourself and the instructors. The waves look enormous but the ladies who believed the instructors and in themselves, suspended their fear and just went for it, riding the biggest, longest waves of their lives. Genie was one of those.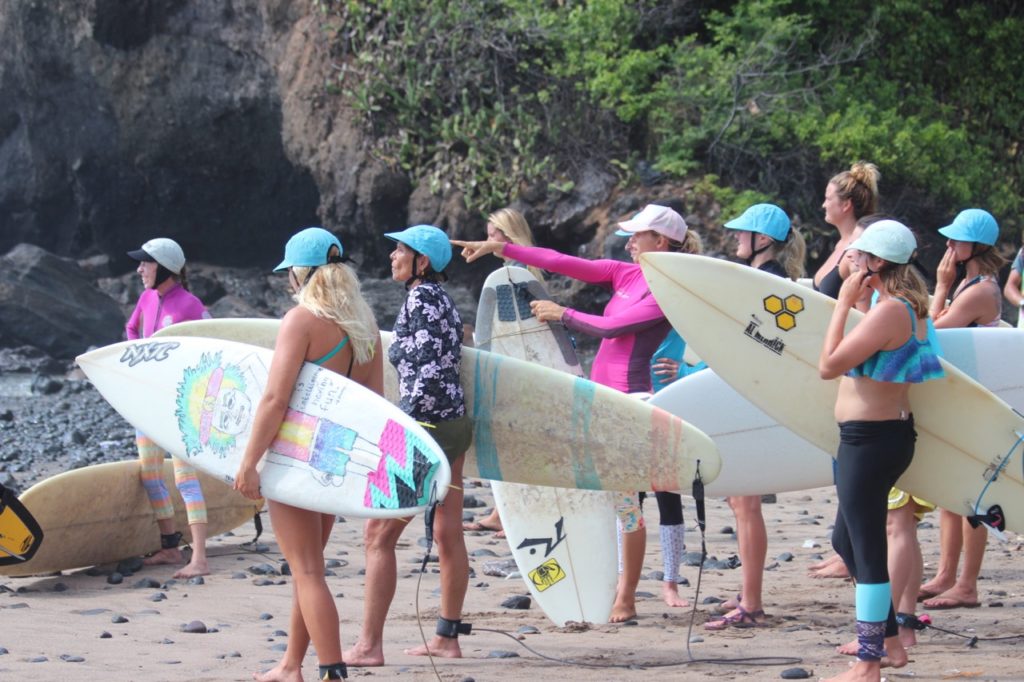 Our Instructors work hard to keep everyone safe
For the instructors, this particular week was a memorable one. With pumping swell every day, we definitely had our work cut out for us. We guided each guest through the shore break in each direction since it was tricky to navigate and we didn't want anyone getting hurt. At one point, one of the girls was stuck in the side shore current and was getting pulled further and further South to a point where it would have been impossible to get in through the shore break without injuring herself and probably breaking her board. Her arms were exhausted and she just couldn't fight it any longer. We had two of our instructors meet her and then they both paddled as hard as they could as she held onto their leashes until she was back in a safe place to make it to shore.

Genie would go
Meanwhile outside, the other instructors were helping the Amigas to navigate the crowd and the sets. In order to catch a "cute one" you had to paddle in a bit and deeper towards the peak. The issue was that if you then didn't catch one before the next set came, you'd be caught inside and have to duck dive or turtle roll some very big waves. It was an exciting game of cat and mouse. Move in for the cute ones, then out/over to avoid the set.
At one point Genie was caught inside on a large set. She tried her best to turtle roll but the 7'10 was ripped out of her hands and her leash broke. I was watching her and saw it happen. I thought to myself,
"Oh my god, we've got a 68 yr old woman on the outside with 10′ waves about to break on her head, and she has no board!"
I frantically paddled to her, thinking she'd be really nervous. But, Genie is a badass. She was fine, a little concerned, but not at all panicking. I gave her my relatively tiny 5'10 and helped her paddle to the safety of the channel, then I embarked on the long swim to the beach against the current, to find her board, then attach another leash and get back out to her so she could catch another wave. The next morning, Genie shook off the previous session's issues, paddled herself into a giant wave and rode it all the way in!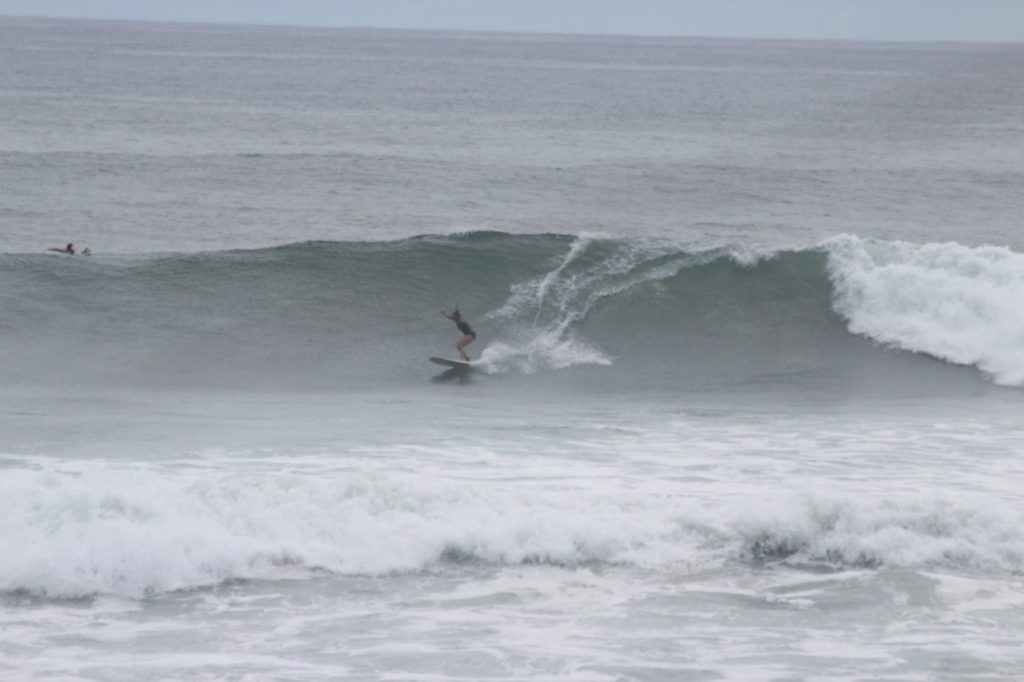 Surf like genie
There are a few messages here. First, you're never too old to learn to surf. Second, trust in your instructors, and yourself, and you will get the ride of your life.
After this retreat we decided to take a break from running retreats in El Salvador. The resort we used was comfortable, but not completely up to our standards, there were a few too many other people in the water, and those big waves were challenging for most of our guests. Maybe we'll be back one day, but for now Nicaragua and Costa Rica can't be beat as far as awesome conditions for both learning to surf and improving your skills. Genie has since joined us in Panama and Costa Rica, and at age 71 is coming this May to Southern Nicaragua to keep improving! Come join us and be like Genie!
If you do want to see the highlight video from the retreat (which unfortunately doesn't show any of the drama or rescue missions, just the fun!) see below…