Take a behind the scenes look at our Amiga Jaclyn's first time retreat experience in Morocco!
Hello readers, thank you for being here and partaking in what I am about to share about my magical experience as an Amiga. This past September 2022 I had the great privilege of joining a retreat on my maiden voyage with SWA for their first-week session in Morocco. My name is Jaclyn Burke, and I am a San Diego native born and raised the daughter of a lifeguard and two goofballs that met on the beach during the 70s in a once sleepy surf town.
As a person that has been on many different surf trips, I have normally spent my time planning adventures to many wonderful tropical locations. Surf With Amigas came very highly recommended to me and I was intrigued and curious about the idea of an all-inclusive surf adventure where I just showed up and did not have to plan anything.
I knew wanted to do a surf trip, but I wanted something different.
The moment I saw the trip posted on the SWA website I knew wanted to go to northern AFRICA.
Situated a few hours' drives from the main airport town of Agadir is Imsoaune, a cliffside fisherman's village with a consistent peeling right-point break. The SWA house is a stunning all-white villa with a pool and mini private casitas that freckle the property for guests to share with a roommate or stay in solo. The house sits bluff-side facing the point break with stairs from the property to a short path that leads to the surfboards. The partnered surf shop provides a wide collection of designer boards that are well kept and ding- free. It was probably one of the premier (and cutest) selections of rental boards I have ever seen. There was a range of sizes to choose from- long, short, and in any flashy surfy vibe color that your little heart desires.
Each day is filled with a morning surf, an amazing fresh healthy breakfast, activities in the afternoon such as yoga, shopping excursions to the medina in Essaouira, cooking class on the local cuisine, or surf seminars on a variety of topics. The retreat was focused primarily on surfing and the activities were structured around on tides, winds, and when it was best to hit the waves.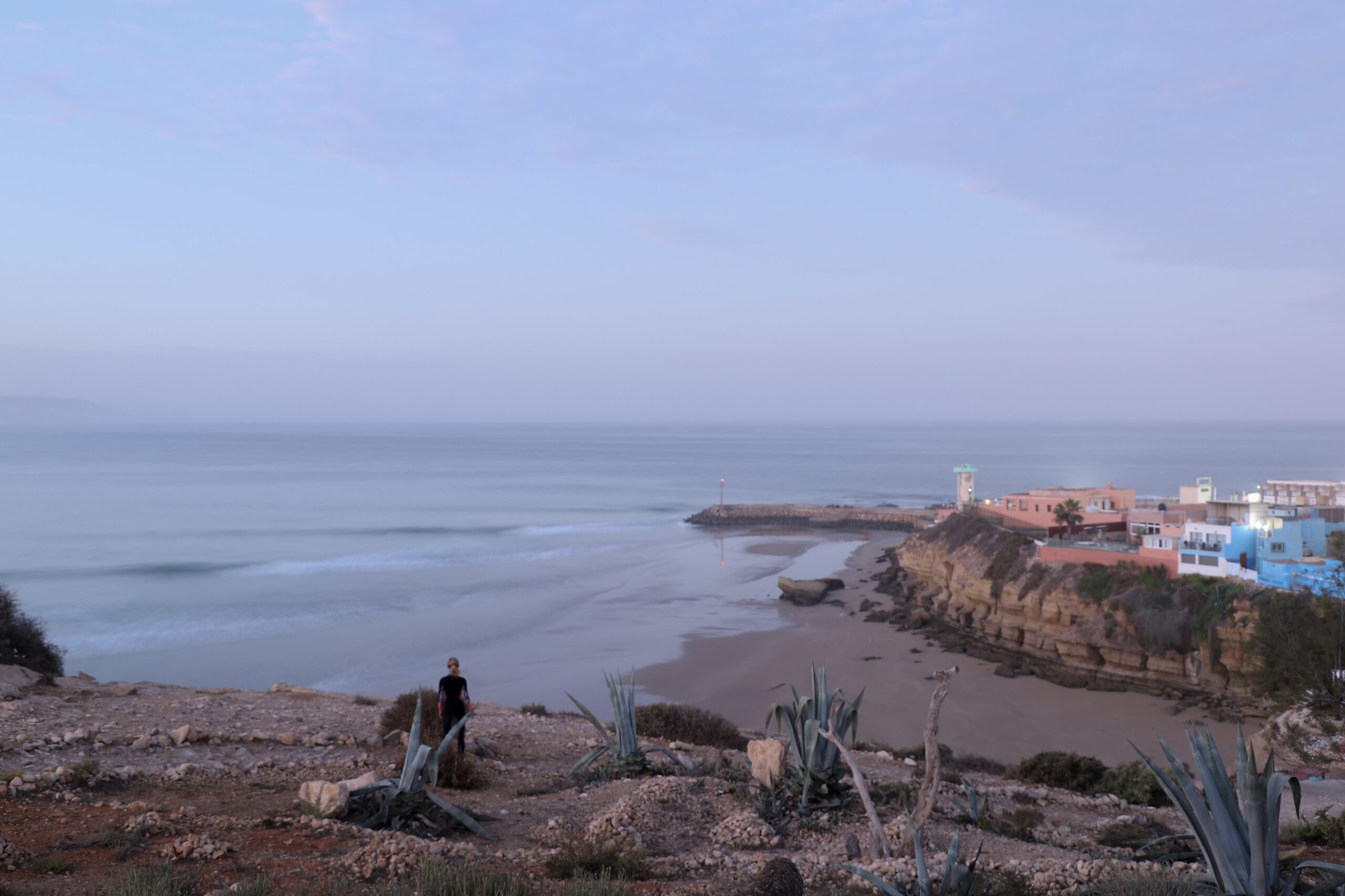 One of the things that stood out the most to me about the retreat and the experience was that everyone felt like instant friends. More importantly, it was that SWA wants you to grow and develop your surfing skill. It is their primary goal to want you to succeed at surfing and learning it appropriately- not to just go on a surf trip to catch a wave and to get a picture of you surfing. You will get plenty of photographs but there is more to it! Surf With Amigas has a deeper connection of passion and care that is truly conveyed to help each Amiga in their surf metamorphosis. Both casual and structured conversations happen around etiquette in the water, positioning on waves, board shapes, style, or understanding a surf forecast. Anything that an Amiga wants to work on is game and set as an intention at the start of the week.
I was particularly impressed with the video analysis that was captured during the multiple surf sessions of the day. Then the footage was reviewed one-on-one with the instructors in the evening. I found it incredibly helpful in identifying little tweaks I needed to make and found myself more present on the waves thereafter while trying to incorporate the adjustments.
I never felt like a surf trip like this would emulate so closely a type of trip I would plan with my personal friends. From the type of activities and the demeanor of the goofy lighthearted conversations, to the deeper matter of surfing or personal intersections of life for each of the different Amigas.
Yes, you will ride a camel. Yes, you will go to the medina and go shopping. Yes, you will eat amazing meals each day that you don't have to prepare or clean up. Yes, you will surf great waves!
More importantly,  you will have a blast no matter what with this crew and walk away soul enriched from a week of positivity, new friends from all over the world, and will have refined your surfing skill set.
This was my first adventure with SWA but certainly not my last as I am already dreaming up which retreat location will be next on the roster for me.
All photographs are original work from Jaclyn Burke. IG: @Judahdear