In this story you'll take a trip to a village in Morocco alongside SWA coach Emma and join her as she falls in love with Moroccan strays and connects with a local animal shelter in an effort to help.
Here's Emma's story:
I landed in Morocco mid-September, bright eyed and bushy tailed, ready for the start of another season with Surf With Amigas. I was greeted by couscous, a cornucopia of color and an astonishing amount of furry, four-legged friends. Reesie, Chloe and I spent 3 days in Marrakech where we learned cats were king, residents of every street corner and territorial savages when tajine scraps were on the line. 
From Marrakech we moved south to Imsouane, a village north of Agadir where we hold the SWA retreats. Waters once dominated by fishermen have transformed into Moroccan Malibu, with European tourists and soft tops flying about in the fog. 
Marrakech is to cats as Imsouane is to dogs (and some cats). That first morning in the few days before the start of the retreat we stayed at a cute hotel further down the cliff from the SWA retreat villa. Feeling underdressed and too awkward to make conversation with the European hipsters that make boho look elegant, I went to play with one of the stray pups rolling around in the dirt out front.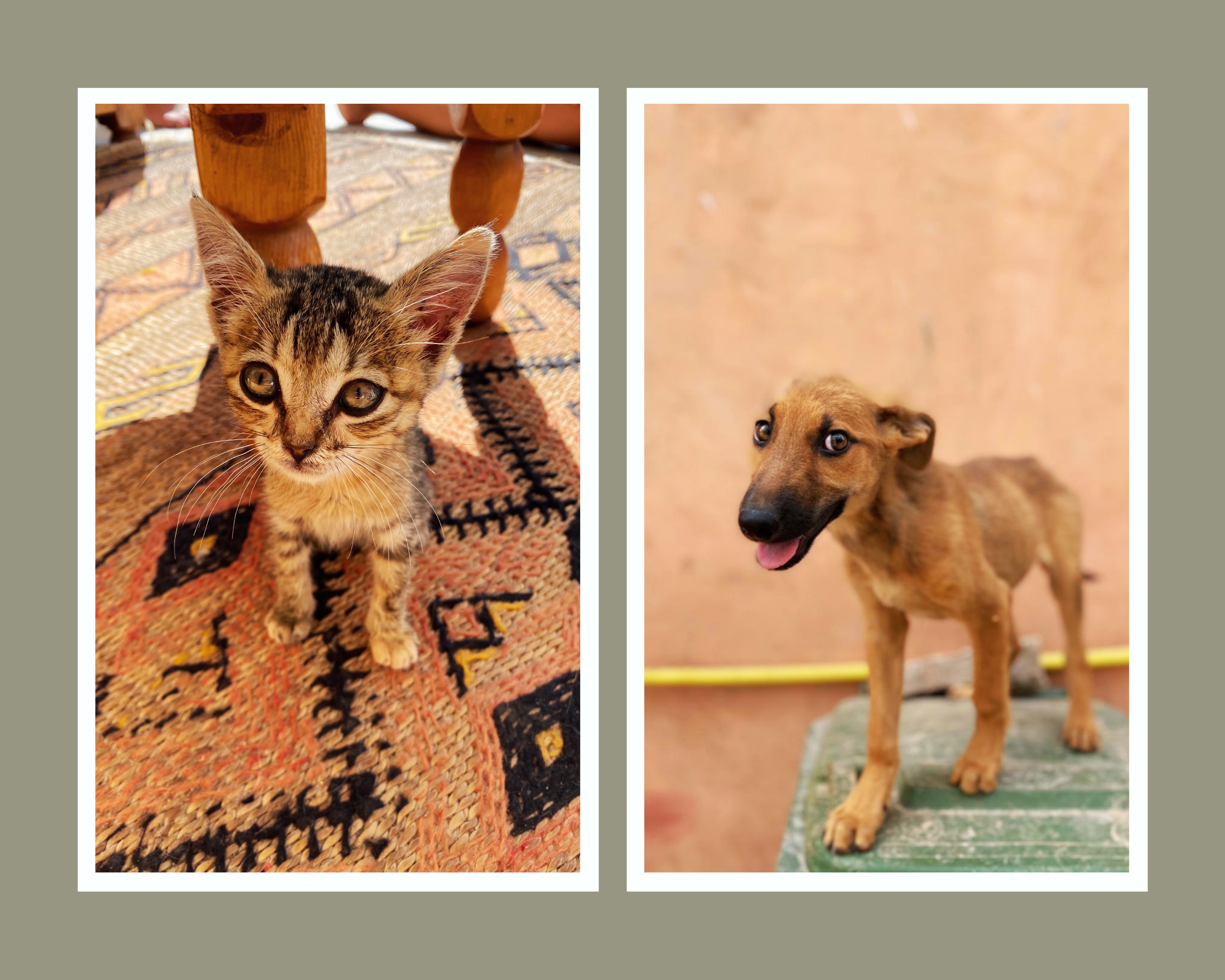 You could say it was love at first look between me and this puppy. I cuddled her every morning during our stay at the hotel. The staff there calls her Noisette (hazelnut in French). This little pup was a curious one and wouldn't be held hostage for too long until she wanted to explore, black tail swishing side to side as she strutted around. I later learned that she had been found with her two front paws broken near the hotel. 
Soon I found myself living up at the retreat villa and swept up in the first week of fun, filling myself up with sunrise surfs, amlou Moroccan nut butter and lots of fresh bread. Besides seeing the pup every now and then after coming up from a surf, this was my last interaction with her for a while. My morning cuddles with her felt far away, but by the middle of the week I found myself falling for another Moroccan outcast. 
One morning after a surf, huddled up munching on breakfast and playing wordle, we were interrupted by a tiny kitten's meows. The poor thing had scampered up the rocky hill from town and made its way to the retreat house! An absolute pilgrimage for something her size. As you'd expect, the group's obsession with the tiny fluff ball was immediate, and we welcomed her in from the cold. Not being much of a cat person, my goal that week had been to make a connection with one of the strays roaming around the house. My golden moment had arrived!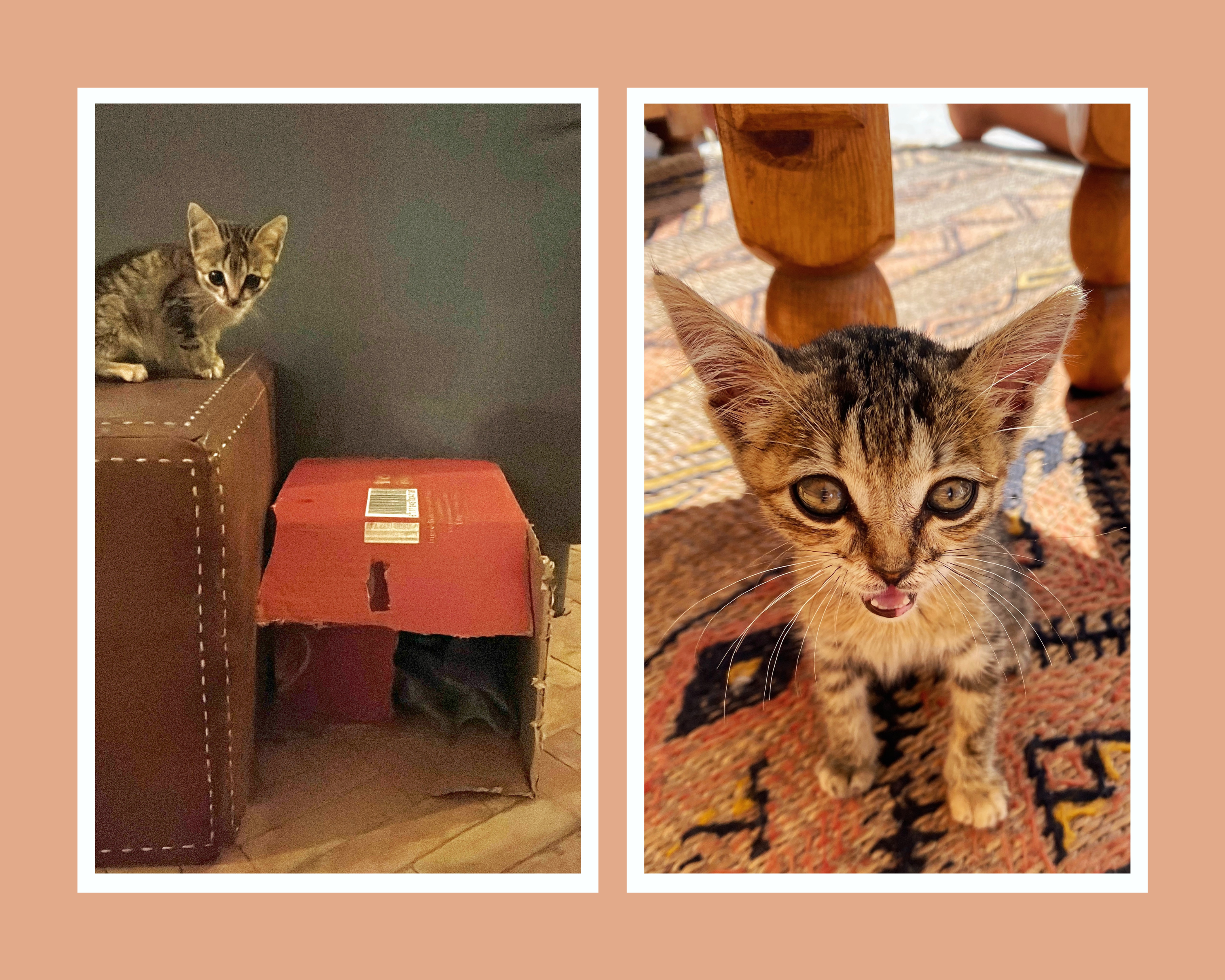 Luckily our Amigo Dave, a veterinarian on the retreat that week, ponied up to be my accomplice in Operation Kitty. We named her Muja (meaning wave in Arabic) and built her a cardboard cave and litter box (which she used successfully on her first try, our shining star!) Thank you Dave for sharing your knowledge and love of animals with us! Unfortunately, after her second poop/barf in the house (still questionable which was which), the villa staff seemed to have had enough. One of the kitchen staff adopted her (and saved the white couch from ultimate poop destruction).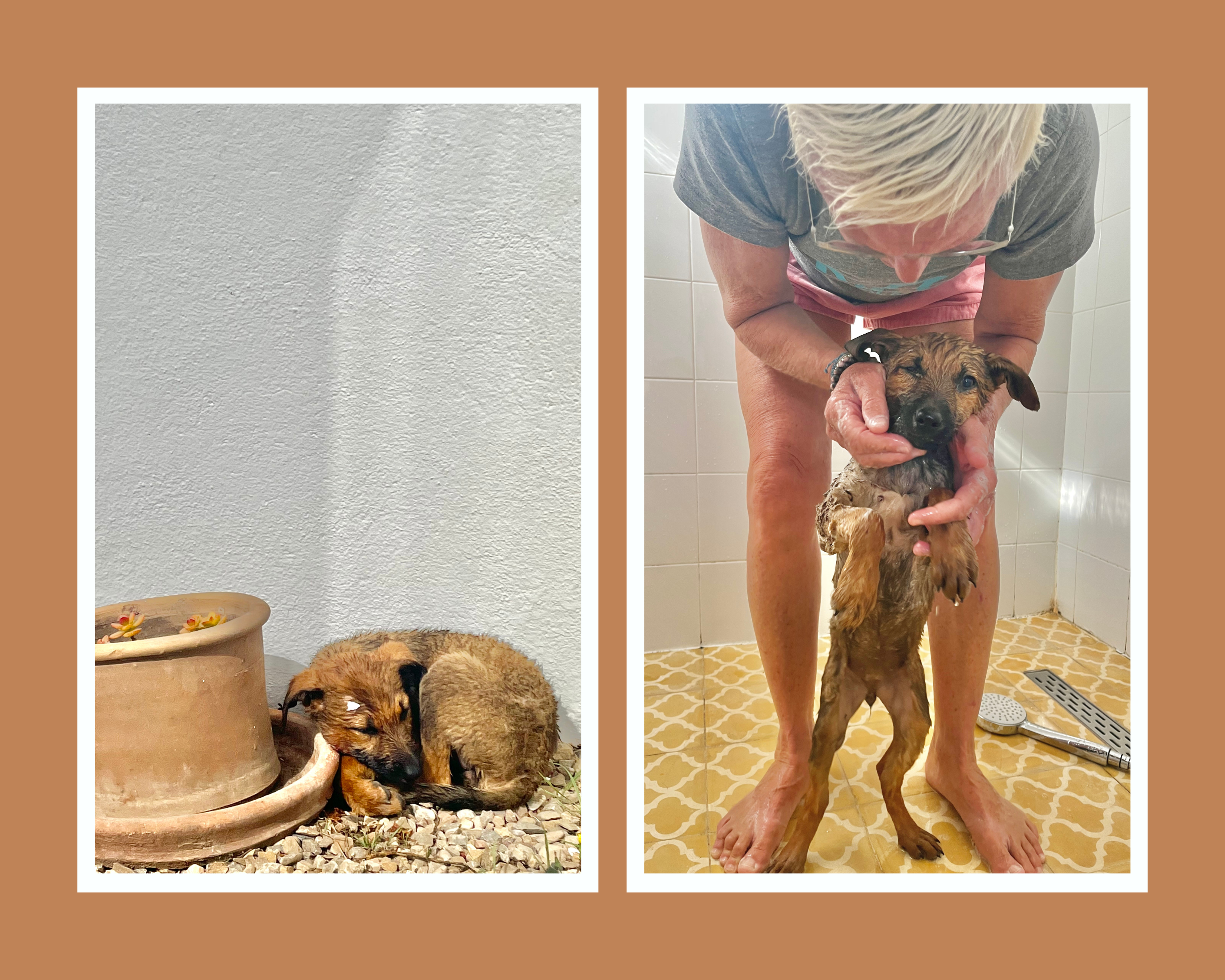 My vet training continued as the next retreat week ramped up. Walking back from a morning surf, we passed the board shop to drop our boards off. I had become familiar with seeing Noisette, the puppy I played with during my first week in Imsouane, traipsing about and wagging her tail around the board shop every day. Instead, I spotted her curled up in a tiny ball under a table, the fur covering her chest and right paw matted with blood, flies eager to feast above her head. She was so lethargic she wouldn't even lift her head to say hello. My heart broke as I watched other dogs sniff and paw at her. Another amiga had told me she had seen Noisette being bullied by a bigger dog earlier that morning. We assumed she was likely attacked and bitten.
Being the softie I am, I sprang into action. I carried her up to the retreat villa where I found Torri, an Amiga and veterinarian on the retreat that week. Torri checked out Noisette's face and we were able to find several bite marks, including a puncture wound on her cheek that Torri thought was already an abscess and infected. We took her to the shower and gave her a shampoo. She kept her tail between her legs but was the best patient and didn't try to run away, even with soap suds in her eyes. 
Our new puppy Noisette became a part of the retreat that second week in Morocco, living in the lap of luxury while eating heaping piles of eggs for breakfast and lots of leftovers. All the amigas doted on her that week, but Torri, Janice and I became her sworn protectors. Using my first aid kit, we cleaned her bite wounds and fed her antibiotics, but the wound on her cheek wasn't healing, and we knew we had to find a better place for her.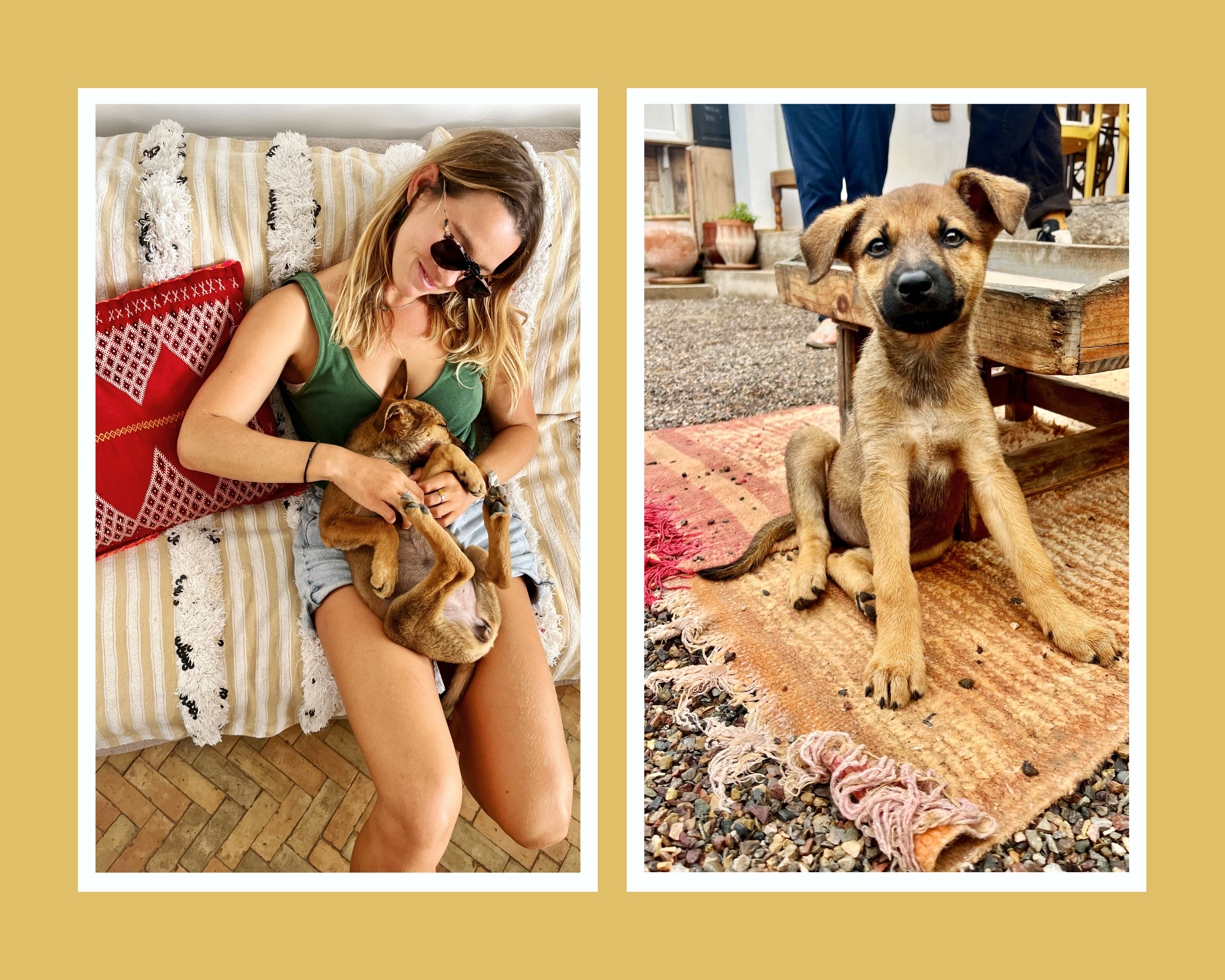 Being a stray in Morocco is not easy. Strays have become so abundant in the streets of Morocco that government officials have taken to shooting dogs to control the population, opening fire and not stopping to dispose of the bodies. 
Trying to find appropriate vet or shelter care for Noisette proved to be tough at first. But, through a few friends I heard of Morocco Animal Aid (the smaller branch in Imsouane is called Ims'ONE project (IP)). They're doing great work to help remove animals off the streets, get them spayed/neutered, and find their forever homes. I decided to take Noisette to their shelter, just a 10 minute drive north of Imsouane located on a stunning cliff side.
I was devastated to drop her off, keeping her wrapped up in my sarong baby Bjorne style. I felt like a new mom dropping her daughter off for her first day of school, watching all the other dogs sniff and bark at the new kiddo. I'll let the photos I've included of the shelter and Noisette (now newly named Muja just like our first kitten) describe the rest.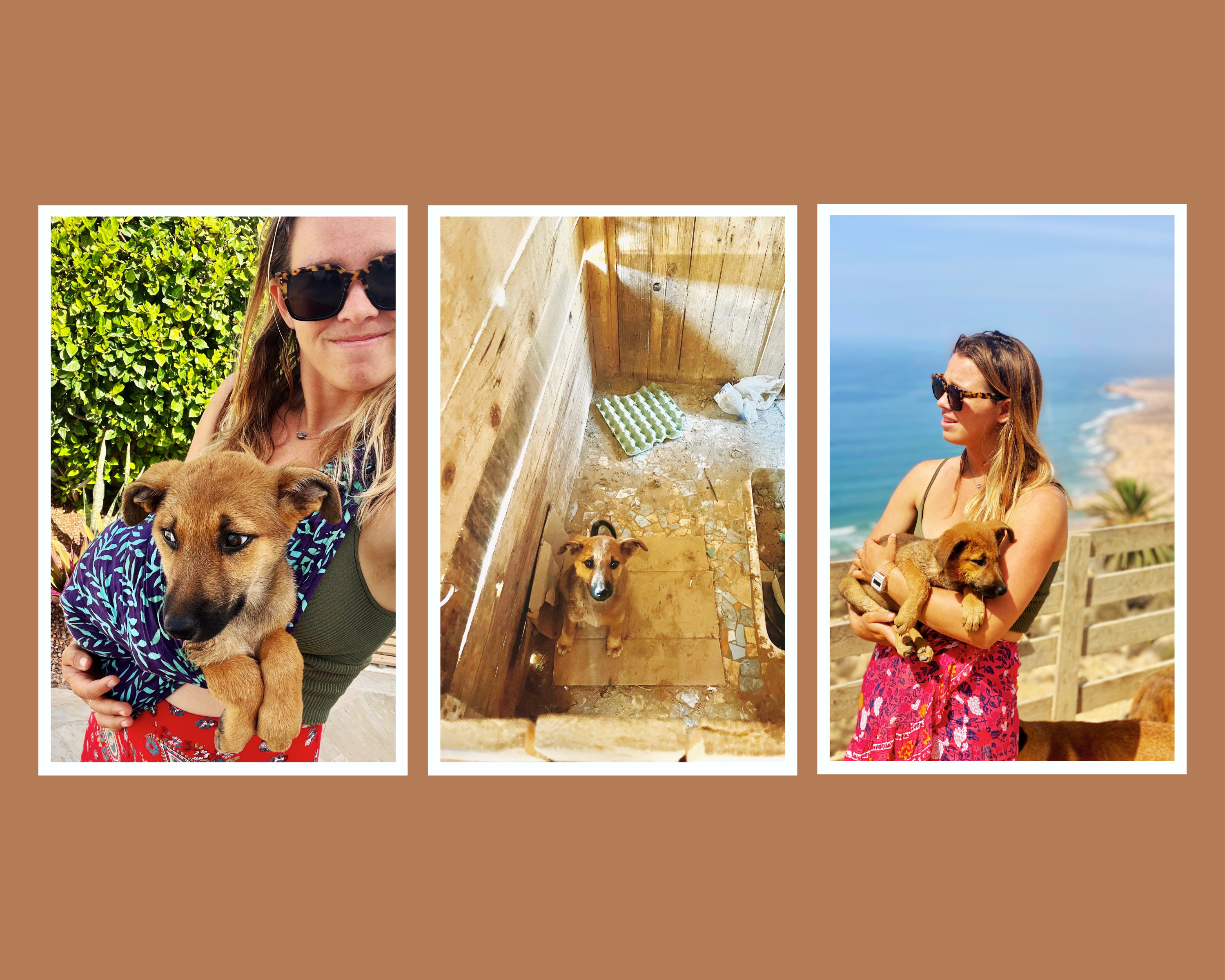 After dropping Muja off at her new home, she was quarantined and given medicine (it can be dangerous for unvaccinated pups to be surrounded by other dogs). After she was settled, a volunteer eagerly asked my friend and I if we'd be keen to walk the dogs. What followed was a rambunctious ramble with about 13 dogs down a cliff path to a beautiful, remote beach. We learned that every dog gets at least two walks down to the beach per week and made sure to bring Amigas back to the shelter the following week so we could give the shelter a donation and take the deserving dogs on another awesome hike.
As you can see, the amount of animals that fit into one small space is highly impressive. I later learned that it was incredibly hard for the owner of IP, Fanny, to buy property that was meant to house dogs. However, despite the tricky relationship between strays and locals, the Ims'ONE project seems to be making large impacts.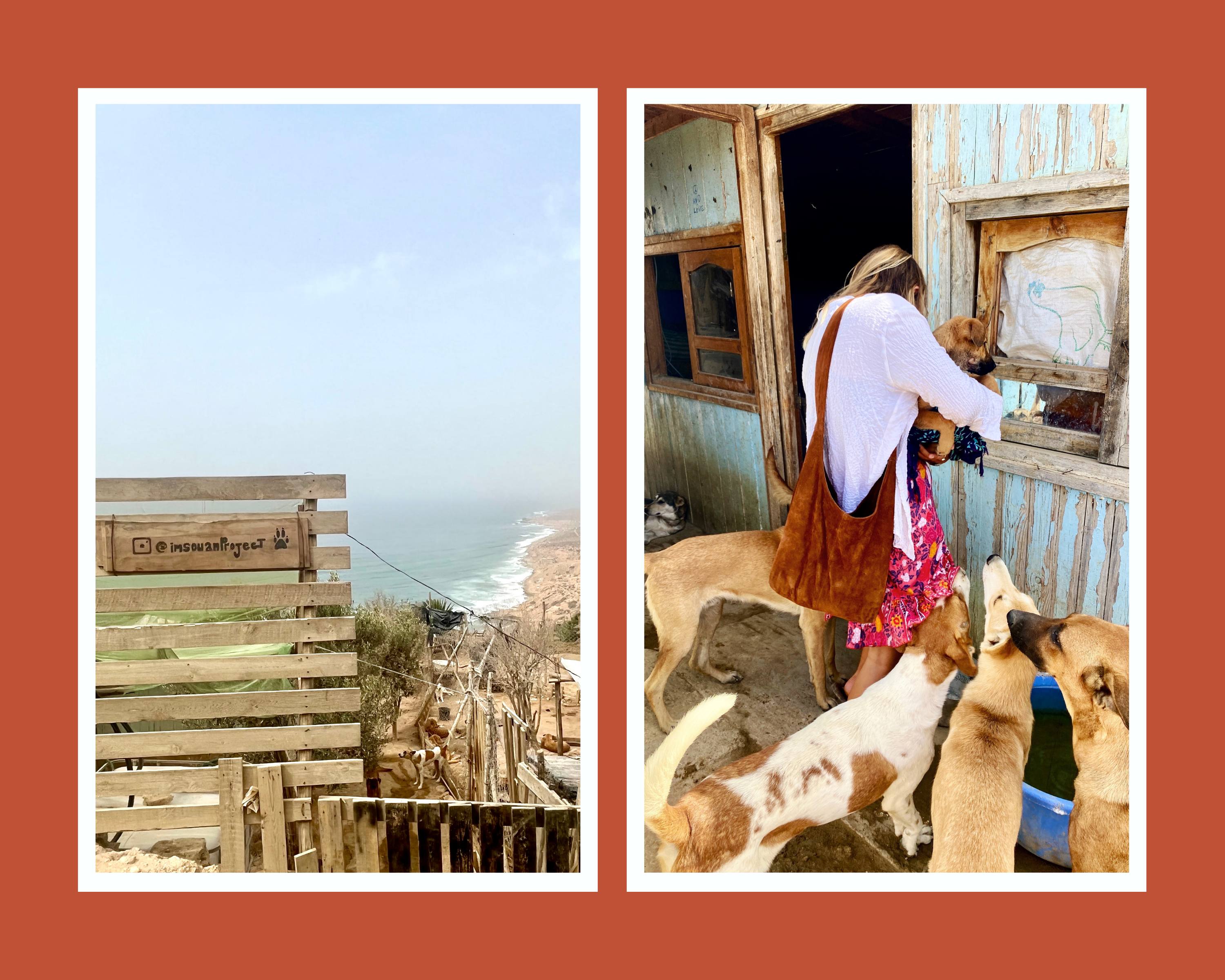 As much as I wanted to take the puppy Muja home with me, it's an extremely difficult process to adopt animals from high-rabies risk countries like Morocco and bring them to the United States. Blood tests, vaccinations and waiting periods are all necessary. But, our hope is that Muja will find her home in the next few months! I'm in contact with an Amiga from our second retreat and we have our fingers crossed that we can make something work. In the meantime, I'm continuing to sponsor Muja for food and medicine with only 50€ a month. 
I hope sharing this story inspires you, as I was inspired, to lend a hand to this organization fighting for our furry friends in Morocco. At Surf With Amigas our goals is to understand and connect with the communities where we host retreats. We believe that travel is more meaningful and important when you have a chance to leave a place a better than how you found it.