Every one of us has experienced stress and trauma, often beginning back in childhood. In many ways, trauma represents our waves of tolerance in life. The nervous system is disturbed after each exposure, causing the body to learn and adapt to new stressors. The more frequently our bodies are held in these environments, be it one of pain, illness or trauma, the more likely we are to be deeply affected by it.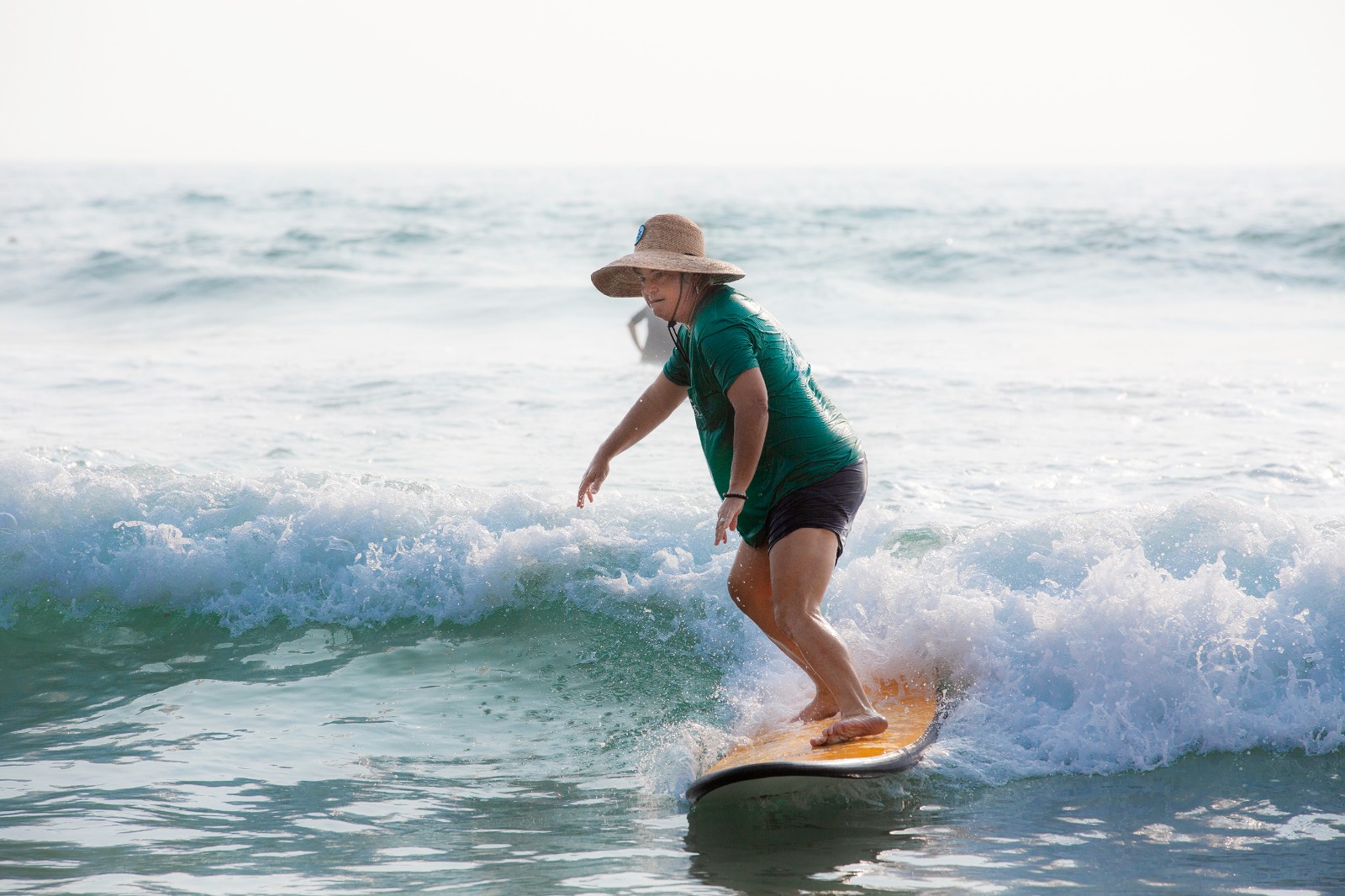 ABOUT TRACEY CHESTER
This week we got a chance to chat with former amiga Tracey Chester about her work and experience with mental health issues, chronic pain, trauma and their common denominator in healing: surfing. Tracey is the Founder and Clinical Director of San Diego Medical Pain and Trauma Institute, a Licensed Marriage and Family Therapist, a Certified Clinical Trauma Professional and a Certified Grief Counselor and Surf Therapy Facilitator. Her mission is to promote awareness and widespread change for primary care and pain management clinics to utilize Trauma-informed Care based on collaboration of mental health providers and medical doctors. Tracey is amongst a small professional community that studies the relationship between grief, trauma and chronic illness/pain. Her research primarily focuses on the treatment of trauma through state-of-art new modalities such as ecotherapy,
surf therapy
, ketamine-assisted-therapy and the effects of THC/CBD on symptoms of pain and emotional trauma.
"How did I find my own path? That is not a short answer, but essentially, when you are ill, you are forced to find feeling. Your pain is saying, "you need to stop or you will get hurt." [My] path began the moment I realized I had a chronic condition that couldn't be "fixed" by a surgery or medication."
Tracey never realized how her difficult childhood had affected her until later in life, when her work as a geologist put her under immense amounts of stress due to hectic travel. After suffering from massive breakdowns and panic attacks, she became interested in organizational and industrial psychology and eventually began taking some pre-requisite courses for a graduate degree. After graduate school and an additional eight years of working to obtain her therapy license, she ended up working at the Therapeutic Center for Anxiety and Trauma.
It was there "[she] started to meet many doctors and healers, some bad, some good." She realized that there was a gap in understanding between doctors and patients when it comes to pain, both in terms of its diagnosis and origins. Inspired to fill this niche within the industry, Tracey worked to create her own clinic in San Diego. Today, her practice collaborates with many other healers, some working directly on her team and others as external resources. Tracey's philosophy regarding pain and trauma management involves taking a deep dive inwards. She explains:
"As humans, we are aware of our mortality, yet we have learned to go through and live each day without thinking about it. That's a pretty neat trick our ancestors gave us. So when illness presents itself, we are wired to pay attention. Our doctors prescribe medicine and we are forced to at least track our symptoms to see if we feel better. The internal attention begins here and to be mindful is always a challenge. To move and accept growth despite illness, we first have to feel the pain, over and over. We cannot skip our grief."
An appointment at Tracey's clinic looks very different for each patient. Whether you're dealing with chronic pain or recovering from a broken arm, Tracey and her team look at the individual holistically and take a multidisciplinary trauma therapy approach. Treatment varies from somatic healing and naturopath guidance to Cognitive Processing Therapy and surfing. But how, you might ask, could getting outside and surfing in the ocean help manage something as deeply personal as pain? Tracey breaks it down for us:
"Surfing and spending time outdoors can offer various benefits that may help with chronic pain. While it's important to note that individual experiences may vary, here are some potential ways surfing and being outside can be beneficial:
1.Physical activity and exercise: Surfing involves paddling, balancing on the board and riding waves, all which provide a low-impact workout. Engaging in regular physical activity can help improve flexibility, strength, and overall physical health, which may alleviate some chronic pain symptoms.
2. Natural pain relief: Spending time outdoors and being exposed to natural sunlight can trigger the release of endorphins, which are natural painkillers and mood enhancers. These endorphins can help reduce pain perception and promote feelings of well-being.
3. Mind-body connection: Surfing requires focus, concentration, and mindfulness. Being fully present in the moment while catching waves can promote a mind-body connection, helping individuals manage pain by reducing stress and anxiety.
4. Vitamin D exposure: Being outside exposes you to sunlight, leading to an increase in Vitamin D production in your body. Vitamin D plays a crucial role in bone health and the functioning of the immune system, which can be important for managing certain types of chronic pain.
5. Stress reduction: Chronic pain can often be exacerbated by stress and tension. Spending time in nature, whether it's at the beach for surfing or simply taking a walk in the park, has been shown to reduce stress levels, which may indirectly help manage pain.
6. Social interaction and support: Surfing can be a social activity, and spending time with friends or like-minded individuals can provide emotional support. Social connections and a strong support system can positively influence a person's perception of pain and their ability to cope with it.
7. Distraction and enjoyment: Engaging in enjoyable activities like surfing can divert your attention away from pain and discomfort. Participating in activities that bring joy and fulfillment can help in reducing pain perception.

Despite these potential benefits, it is essential to recognize that surfing or outdoor activities may not be suitable for everyone with chronic pain, as each person's condition and limitations are unique. Before starting any new physical activity or exercise regimen, individuals with chronic pain should consult with their healthcare provider to ensure it is safe and appropriate for their specific situation. Additionally, proper techniques, protective gear, and taking necessary precautions are crucial to prevent injury and further aggravation of pain."
Although alternative approaches to pain management may not be suitable for all cases, Tracey's work teaches us that it's interesting and perhaps essential that we begin to search for more holistic approaches to healing. The mind/body connection is powerful and should not be ignored.
To contact Tracey and her team or learn more about their work at the Pain and Trauma Institute of San Diego, go to www.paintraumainstitute.com, or listen to her chat with Holly Beck on Second Breakfast, a podcast with Surf With Amigas, found on Apple Podcasts or Spotify.