They're the SWA power duo! Surf With Amigas Co-Owners, Jackie George and Holly Beck, have been running ladies surf & yoga retreats together for almost 10 years. Both ladies typically split their time between Nicaragua, Costa Rica, and California- running retreats, surfing, and living the sweet & simple life.
Meet Jackie George
HOMETOWND: San Clemente, California
HOW DID YOU LEARN TO SURF? I grew up at the beach and learned to surf so young that I barely remember learning! I do remember early mornings at San O with my dad and his buddies. I remember the doyle sessions at Junior Lifeguards. I remember my first real surfboard was the Hobie Peter Pan Slug (still love that board). I didn't really take surfing too seriously until High School, when my girlfriends and I would get dropped off at Trestles and spend long days on the beach. We all loved surfing and pushed each other to get better. To this day, we're still close friends and love surfing together. 
FAVORITE BOARD AT THE MOMENT: My new Christensen log that I scored in a trade. I've also been indoctrinated into the twin fin revolution program here in Costa Rica.
WHAT'S PLAYING ON THE SPEAKER WHEN YOU GEAR UP FOR A SURF? Cardi B, Yoncé, or some dirty dirty dancehall beats. I'm also always up for praising Jah a bit before a surf.
IF YOU COULD HAVE ONE SUPERPOWER, WHAT WOULD IT BE? Teleportation. Or breathe underwater. Or know every language.
DAWN PATROL OR SUNSET SESSION? DP is always more reliable… but when sunset comes together, it doesn't really get much better.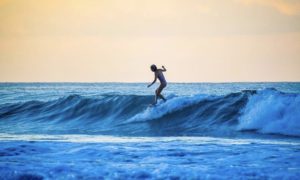 NAME A SURFER THAT INSPIRES YOU: I'm inspired by the people that can surf any craft in any conditions and have a good time. I'm inspired by the people twice my age that can surf twice as long as me, and I'm inspired by the people that only come out when the waves are properly pumping. I love watching good longboarders ride shorter boards in heavy waves. I'm a sucker for a relaxed style, and anyone that can do a cheater five in the tube. I'm also inspired by ladies that come on the retreat and look at surfing with a fresh perspective. Inspo everywhere!
FAVORITE QUOTE: "Be here now."
Check out the Q&A with SWA's other half, Holly Beck!